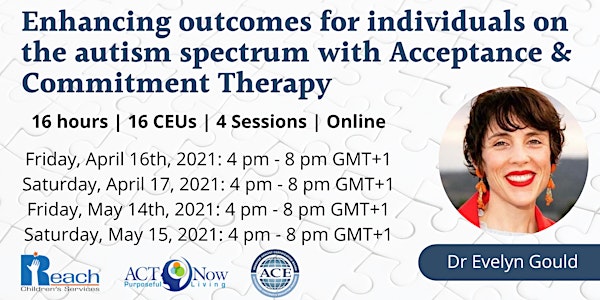 ACT for individuals on the autism spectrum | Dr Evelyn Gould | 16 BACB CEUs
Dr Gould's applied training on enhancing outcomes for individuals on the autism spectrum with Acceptance & Commitment Therapy | 16 BACB CEUs
About this event
Psychological flexibility is the ability to fully connect with the present moment and do what matters while also accepting the inevitable consequences of such commitment. Acceptance and Commitment Therapy (ACT) is an evidence-based approach to increasing psychological flexibility, with research supporting its effectiveness across a range of populations and issues. For professionals working with individuals prone to rigidity (e.g., those on the autism spectrum), promoting psychological flexibility and ensuring long-term beneficial treatment outcomes can be challenging. Successful intervention requires individualized modifications, consideration of the individual's unique strengths and preferences, and the effective engagement of caregivers and/or other educational and community support systems.
In collaboration with Reach Children's Services (authorized BACB continuing education provider), join clinical behavior analyst and psychologist Dr Evelyn Gould in exploring ACT as a treatment approach for individuals with a variety of learning, behavioral, and mental health issues, including challenges associated with autism.
Across four sessions, this 16-hour workshop delivered via Zoom will explore ACT-informed assessment, case conceptualization, and treatment design, with hands-on practice to enhance your therapeutic work with clients. Throughout the course, Dr Gould will emphasize the importance of creating affirmative and empowering spaces for clients and their families, further exploring the potential benefits of combining traditional behavioral treatment strategies with ACT. Attendees may opt-in to receive 16 BACB continuing education units (CEUs).
!!! IMPORTANT SCHEDULING NOTICE !!!
This online training takes place via Zoom across four sessions.
Friday, April 16th, 2021: 4 pm - 8 pm (Irish time; GMT + 1)
Saturday, April 17, 2021: 4 pm - 8 pm (Irish time; GMT + 1)
Friday, May 14th, 2021: 4 pm - 8 pm (Irish time; GMT + 1)
Saturday, May 15, 2021: 4 pm - 8 pm (Irish time; GMT + 1)
Cost & Registration
€225 for complete access to the online training via Zoom. Reduced rate of €155 offered for students and unwaged/ low waged attendees. For an additional €10 processing fee, attendees may opt-in to receive 16 BACB CEUs. €75 discount for attendees of our upcoming training, An Introduction to ACT for Behavior Analysts.10% discount for members of our mailing list. 20% discount for graduates of our Advanced ACT MBI Course.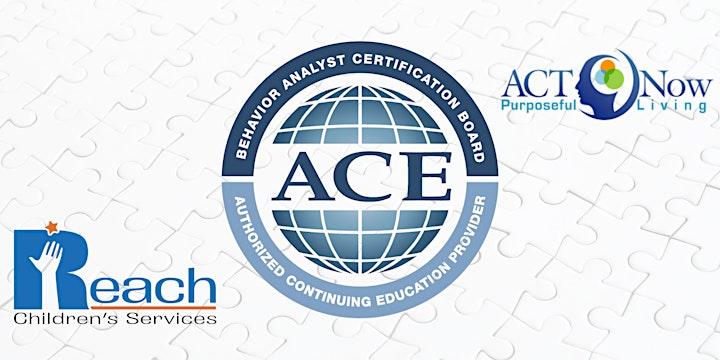 Who is this training for?
A variety of professions including and not limited to Psychologists, Psychotherapists, Behavior Analysts, Coaches, GPs, Psychiatrists, Speech and Language Therapists, Occupational therapists, Physiotherapists, & Executive coaches.
Prerequisites
An introductory level knowledge of ACT and basic behavior principles is essential.
Workshop Learning Objectives
Weekend 1. Friday, April 16th & Saturday, April 17th
Define psychological flexibility from a behavioral perspective (i.e., the ability to connect more fully with the present moment with awareness and openness to take action guided by our values)
Identify key component repertoires of psychological flexibility often underdeveloped or absent in individuals on the autism spectrum (including behavioral variability, perspective-taking, valuing, etc.)
Describe the relationship between rule-governed behavior and psychological flexibility
Identify key developmental considerations when attempting to assess, design, and implement ACT-based interventions with individuals with ASD
Explain the importance of ongoing functional assessment in ACT at both the micro-level (moment-to-moment) and macro-level (long-term goals and treatment plan development)
Demonstrate components of ACT-consistent assessment and case conceptualization
Weekend 2. Friday, May 14th, & Saturday, May 15th
Identify and develop ACT-consistent treatment goals for individuals with varying developmental and learning profiles
Identify and develop treatment adaptations (including ACT metaphors and experiential exercises) tailored to an individual's unique learning history and context (historical context, developmental profile, strengths, interests, cultural background, etc.)
Identify and implement function-based ACT interventions that promote psychological flexibility moment-to-moment in session
Identify key strategies for tracking progress, promoting generalization and maintaining treatment gains beyond the treatment setting
Effectively engage caregivers and other key supports to further promote and maximize long-term change
Describe the benefits of combining traditional behavioral strategies with ACT to further foster flexibility and growth
Who is Dr Evelyn Gould?
Evelyn Gould is a Clinical Behavior Analyst and Licensed Psychologist at New England Center for OCD and Anxiety (NECOA). She is also a Clinical Associate at McLean Hospital and Research Associate in Psychiatry at Harvard Medical School. Originally from Northern Ireland, Evelyn has extensive experience working with individuals with autism, OCD, and other learning and behavior challenges. She has particular expertise in supporting caregivers and young people with complex, co-morbid presentations. Evelyn is also actively involved in research and has published articles and book chapters on parent training, clinical assessment and treatment, and ACT (Acceptance and Commitment Therapy). She is passionate about dissemination of evidence-based treatments, and addressing issues of diversity and equity in Behavior Analysis.
Refund & Cancellation Policy
We will offer a full refund to registrants who cancel their registration up to 28 days before the training start date (minus administrative fees). If canceled up to 14 days before the training start date, registrants may request a 50% refund. If canceled within 14 days, no refund will be issued. Please email us at info@actnow.co to cancel a registration.