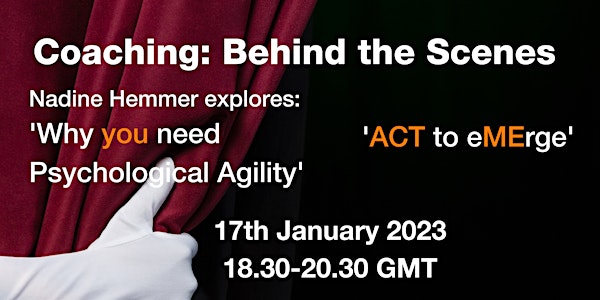 ACT to eMErge ... Why you need Psychological Agility
How can you free yourself from struggling with patterns based in reaction to act in alignment with your best self?
Refund Policy
Contact the organiser to request a refund.
About this event
What truly matters to you?
How can you free yourself from struggling with reactional patterns to act in alignment with your best self?
Developing psychological agility makes it possible to gain greater clarity on our values, to open up to our uncomfortable thoughts, feelings and experiences, to engage in purposeful behavioural change and actions.
Drawing on cutting edge theory, Nadine will share with you her approach to building this thriving skill to support you and your clients for sustainable and transformational change.
You will walk away from this workshop with a framework that you can put into practice - immediately. Both for yourself and with any of your clients.
Nadine Hemmer:
Nadine is a senior executive coach, coach supervisor, and facilitator with 25+ years experience working with European public institutions and large companies.
Her conviction that purposeful change is the bedrock of coaching and mentoring has led her to work deeply in the area of coaching and ACT (Acceptance and Commitment Training). The resources she has gained in this area enable her clients to discover powerful new ways of growing in psychological agility, with tools that support self-awareness, meaningful decision making, and purposeful committed action.
A qualified psychologist, Nadine is an EMCC Master Practitioner executive coach and a CSA accredited supervisor.