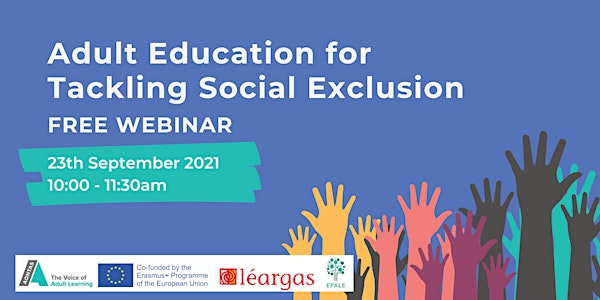 Adult Education for Tackling Social Exclusion
EPALE (Electronic Platform for Adult Learning in Europe) in partnership with AONTAS for inclusive social change
By AONTAS - The National Adult Learning Organisation
Date and time
Thu, 23 Sep 2021 02:00 - 03:30 PDT
About this event
Adult Education for Tackling Social Exclusion
About this event
This webinar hosted by EPALE Ireland in partnership with AONTAS, will look at how adult education in all its forms can tackle social exclusion.
The session will enable participants to hear from voices who have experienced exclusion, along with the role adult education plays in combating social exclusion. Speakers include Mavis Ramazani, Irish Refugee Council, Lorraine O'Connor, Exchange House Ireland National Travellers Service, and Denise O'Connor, Colaiste Dhulaigh College of Education.
A graphic harvest will also take place during the event by Eimear McNally.
About the organiser
AONTAS is Ireland's National Adult Learning Organisation for adult and community education providers and adult learners. It promotes the value and benefits of adult learning, and advocates on behalf of the adult and community education sector. Founded in 1969, it is an independent NGO, with 400 members nationwide. In addition to promoting adult learning in Ireland, AONTAS is the national coordinating body for the European Agenda for Adult Learning, which is aimed at increasing participation in lifelong learning across the EU, enhancing policies and supports for adult learners, and gathering and disseminating best practices.