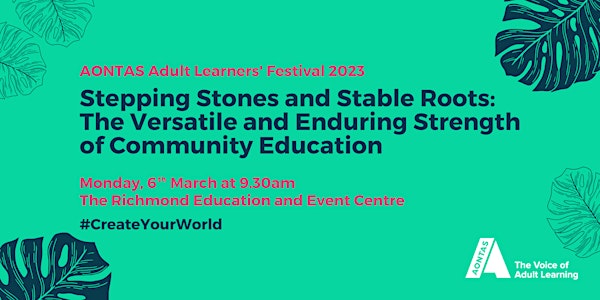 Adult Learners' Festival 2023: Stepping Stones and Stable Roots
Join us on the morning of 6th March 2023 at the Richmond Education Centre in Smithfield, Dublin for the annual AONTAS policy event.
By AONTAS - The National Adult Learning Organisation
Date and time
Mon, 6 Mar 2023 09:30 - 13:45 GMT
Location
The Richmond Education and Event Centre 1 Brunswick Street North #Richmond D07 TH76 Dublin Ireland
About this event
Join us on the morning of 6th March 2023 at the Richmond Education Centre in Smithfield, Dublin for the annual AONTAS policy event, as part of the Adult Learners' Festival 2023. We'll bring community education practitioners, facilitators, managers, and adult learners together with policymakers and Government representatives. Our focus will be on the indispensable role of community education in Ireland, and to debate its relationship to the new Unified Tertiary Education System.
This new policy from the Department of Further and Higher Education, Research, Innovation, and Science seeks to better connect the education sector in Ireland. One of the aims of this new policy is for "a more consolidated approach to inclusion across the whole of the tertiary system to enhance strategies to address socio-economic disadvantage and the underrepresentation of groups."
Between policymakers and community education providers, practitioners, and learners, we will discuss what this means for community education, and the need for widespread recognition of the unique value it can bring. We know that the provision of learning opportunities and experiences in local communities, by local people, forms the quiet and enduring backbone of access to education for many people across the country.
Learning in local communities is sometimes seen as a "stepping stone" to further and higher education. But it also offers stable roots in a particular place, and a sense of belonging and identity for people, which are essential in times of challenge and change. We'll discuss this, and share the findings from our evidence-based "Lifelong Learning" research project, which focuses on the most marginalised and disadvantaged in our society.
AONTAS is inviting eight adult education tutors to support the table discussions at this event through note-taking and providing a short input from their practitioner's perspective. As a token of our appreciation, €70 book vouchers are being offered for this role. If are interested in supporting us, please email Bnea@aontas.com.
We create our world through our actions. Let's explore what a truly unified Irish education system might look like.
Agenda
9.30am: Registration : Tea/Coffee/Biscuits
10am: Welcome and Introduction: John D'Arcy, AONTAS Chairperson
10.10am: Launch of the Lifelong Learning Research Report, Lauren Swan, AONTAS Head of Research
Lived Experience - Adult Learners' Interactive Response, Chaired by Ecem Akarca, AONTAS EU Projects Coordinator
10.45am: Keynote Address: What role does community education have in the new Unified Tertiary Education System?
11.05am: Key Stakeholder Panel Discussion
Dáire Keogh, President, Dublin City University (DCU)
Fiona Maloney, Director, National Tertiary Office
Melíosa Bracken, Community Education Facilitator, City of Dublin ETB
Tara Farrell, Chief Executive, Longford Women's Link
William Beausang, Assistant Secretary General, DFHERIS
Chaired by Dearbháil Lawless, CEO at AONTAS
11.50am: Comfort Break: Tea/Coffee/Pastries
Creating Conditions for Constructive Discourse: Attendees' interactive blended discussion (using Mentimeter)
12.10pm: Practitioner and Policy Engagement – Roundtable Discussion
Tutors, staff and policymakers table discussion
12.45pm: Policy Response, SOLAS CEO Andrew Brownlee and DFHERIS
1pm: Close, Dearbháil Lawless, AONTAS CEO and John D'Arcy, AONTAS Chairperson
1.15pm: Light lunch provided
This event will take place at the Richmond Centre in Smithfield, Dublin, on the morning of Monday 6th March 2023, with lunch to follow. For more information, please contact AONTAS Head of Advocacy Barbara Nea at bnea@aontas.com
The AONTAS Adult Learners' Festival 2023: Create Your World
"Life isn't about finding yourself. Life is about creating yourself"
#CreateYourWorld #ALF2023
Privacy Notice
If you register for this event we will use the personal details you provide to help us manage the event and meet our information needs. By registering for this event you agree to this use. We may also use the data to build our lists of people interested in hearing about our work. You can opt out by selecting 'no' for "Would you like to be contacted about future AONTAS events?" at registration. We will use your information with respect and keep it secure. You can ask us to delete or amend the data you provide us at any time.
About the organiser
AONTAS is Ireland's National Adult Learning Organisation for adult and community education providers and adult learners. It promotes the value and benefits of adult learning, and advocates on behalf of the adult and community education sector. Founded in 1969, it is an independent NGO, with 400 members nationwide. In addition to promoting adult learning in Ireland, AONTAS is the national coordinating body for the European Agenda for Adult Learning, which is aimed at increasing participation in lifelong learning across the EU, enhancing policies and supports for adult learners, and gathering and disseminating best practices.