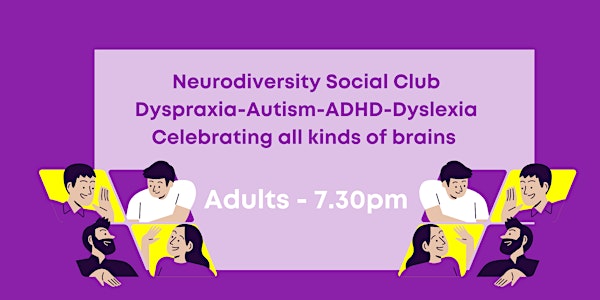 Adult's Neurodiversity Social Clubs -Autism, Dyspraxia, Dyslexia, ADHD
We are aiming to create friendship building groups for those adults with Autism, Dyspraxia, Dyslexia, ADHD.
Refund Policy
Contact the organizer to request a refund.
About this event
This group aims to be a safe and accessible place for adults to meet and socialise online. Making friends is so important for social and emotional development. This club's aim & hope is to support neurodiverse people by providing them with a safe space to learn and develop their social skills. Participation in this group will help boost their self-confidence, empower them, and encourage their creativity. Cian will be leading these groups. Cian has taught our Drama Classes for adults , so we are delighted he is branching across to lead our Social Clubs as he is a valiuable member of our team.
We are currently an online only event as we feel it is the safest way for us all to connect right now. We are planning on brining you regional, face to face, Social Clubs in the near future. So look out for those!!
Social Club Timetable:
Adults: 8-9pm
Please, wait to be let in, allow 5 - 10 minutes.
Reminders will be send with Zoom links.
Thank you & enjoy!
All Abilities Ireland
https://www.allabilities.ie/