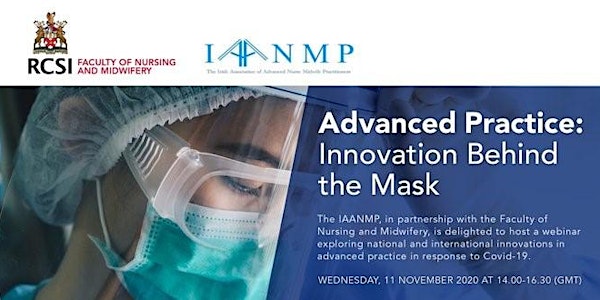 Advanced Practice: Embracing the Possibilities in a Covid-19 World
Registration now closed. You can still join this webinar via the following link https://bit.ly/2GODRnI
About this event

The IAANMP, in partnership with RCSI Faculty of Nursing and Midwifery is delighted to host a Free Live Streamed Webinar.
Advanced Practice: Embracing the Possibilities in a Covid-19 World
Wednesday 11 November 2020
14.00-16.30pm (IST)
Nurses and midwives are a critical resource for the delivery of safe healthcare and the capabilities and capacity of advanced nurse and midwife practitioners are now more crucial than ever. Advanced Nurse and Midwife Practitioners across the globe have responded to the epidemiological challenges of the global pandemic. During a period, in which extremely tough challenges were encountered, advanced practitioners have identified new possibilities and have shown tremendous agility to adapt their practices and their ways of working to accommodate patient need.
Advanced Nurse and Midwife practitioners are transforming the delivery of patient care in this Covid-19 world. Patient assessments and triage are now being undertaken in a virtual environment and advanced practitioners are leveraging technology to undertake systematic patient assessments. Prescribing practices have also been streamlined, to ensure and optimise the continuity of care to service users. New virtual outreach clinics have been established to support the clinical needs of patients in their homes.
Through all of these challenges, advanced practitioners have and continue to respond in a calm, professional manner. While we understand the meaning of Covid-19, advanced practitioners are re-framing this word into an acronym to describe their practice in response to the pandemic. Advanced practitioners responded with Confidence, Optimism, Vision, Innovation, Determination. These are the qualities, which advanced practitioners, are responding with across the world.
This Webinar provides a platform to showcase some of the diverse clinical and professional initiatives that have taken place in response to the global pandemic. Advanced practitioners, in respiratory care, older persons care, orthopaedics and mental health ,from Ireland and the USA will share experiences of their innovations, describing how they reconfigured their services, to support the clinical needs of their patients, in a time of immense public need. Speakers will also explore the challenges that have been encountered and the solutions which have supported progress.