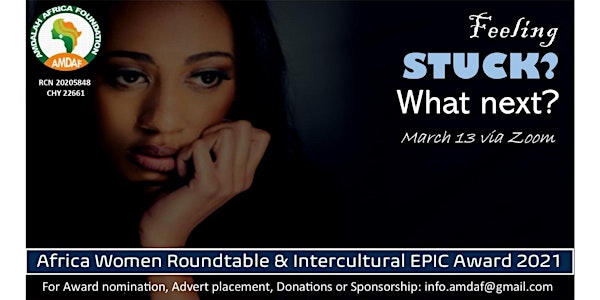 AFRICA WOMEN ROUNDTABLE & INTERCULTURAL EPIC AWARD 2021
Feeling Stuck?
About this event
We all feel it sometimes. We can't get ourselves in gear, out of our own way, moving in the right direction, or even moving at all.
In celebration of this year International Womens Day, AMDAF invites you to our flagship women conference, Africa Women Roundtable - a safe platform where women break barriers and speak truthfully about issues that prevent them from thriving.
Join our battle tested, winners and brave panellists at this year Africa Women Roundtable as we address, challenge and call out obstacles that keep women stuck.
Date: March 13, 2021
Time: 2-5pm
Via Zoom
The aim of this conference is to inspire, empower and position women to take opportunities and challenges towards greatness. Why are you stuck? What issues/viewpoints will you love the panellists to address? Click HERE to tell us.
This event is funded through the COVID 19 Emergency Fund and by Galway City Council , Galway City LCDC, and the Department of Rural and Community Development.
************************
Click the link below to join the Roundtable
https://us02web.zoom.us/j/83162770929
Meeting ID: 831 6277 0929
Please send your feedback to: info.amdaf@gmail.com