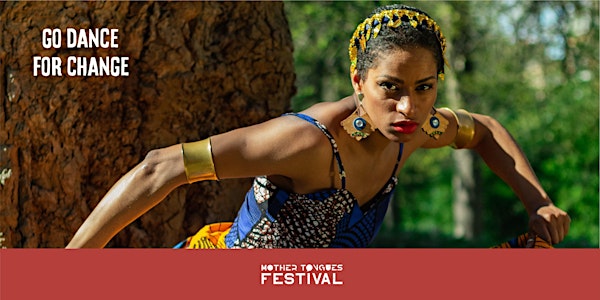 Afro-Brazilian dance & culture connections
A dance Workshop for adults (16+) in Brazilian Portuguese
Refund Policy
Contact the organiser to request a refund.
About this event
African dances developed as a form of personal & artistic expression in areas where the African diaspora settled. Many rhythms & dances were created from these roots - movements that still echo the strength, culture, resilience and beauty of African communities.
Go Dance for Change is proud to present to the Mother Tongues Festival the Afro-Brazilian Dance dance & culture connections workshop. This session is led by Alessandra Azevedo, a dance facilitator based in Ireland and the first woman to teach Capoeira (Afro-Brazilian Martial Art) in Dublin.
The one-hour long online workshop will cover:
Introduction to Afro-Brazilian Dance movements
Development of a choreography using an Afro-Brazilian music playlist with short breaks briefly introducing the historical context.
Dance of the Orixas (also Orishas) & Samba-reggae will be the main dance styles, emphasising this fun and energetic culture.
The session aims to celebrate the connections between Portuguese speakers from around the globe.
About the facilitator
Go Dance For Change is a grassroots transcultural collective that provides community engagement opportunities. It integrates, promotes, and connects performers and enthusiasts with worldwide dance styles using body movement as a means of self-expression and a tool to boost confidence, empowerment, and cultural education. Go Dance started focusing on rhythms originating in Africa and from the African diaspora in the Americas. It highlights and connects the styles created by the mix of indigenous culture everywhere, aiming to decolonise Ireland's dance scene narratives. No other studio, group or dance company focuses on sharing its history, music and people's culture through dance. Alessandra Azevedo is an Afro-Brazilian Dancer, Capoeira performer & instructor from Salvador, Bahia - home to the most prominent African diaspora population & Afro-Brazilian culture. Her heritage drives her potential to lead cross-cultural collaborations. She's an ambassador for Afro-Brazilian dance in Ireland and cultural growth through community building.
This event is part of the Mother Tongues Festival. Check out our rich programme of events! www.mothertonguesfestival.com
**Festival Pack is our best value ticket! You will get a ticket for your event and a signed copy of Little Optimist: A Pocket full of Joy by Ashwin Chacko, the creative mind behind the visuals of this year's Festival! This book is the perfect companion to your festival adventures!
This event or parts of it may be recorded for documentation purposes . Recordings will only be used internally and never shared online or with third parties. By buying this ticket you agree to take part in a workshop that is being recorded.