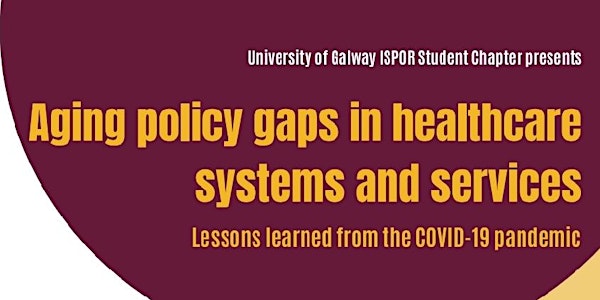 Aging policy gaps in healthcare systems and lessons learned from COVID
Aging policy gaps in healthcare systems and services. Lessons learned from the COVID-19 pandemic
About this event
Hello,
Thank you for registering for the upcoming webinar "Aging policy gaps in healthcare systems and services. Lessons learned from the COVID-19 pandemic", which will take place on Thursday October 6th, 2022, at 1.00 PM BST.
If you are having troubles, please log-in by copy pasting the following Teams link in your browser page:
https://teams.microsoft.com/l/meetup-join/19%3ameeting_YzM4Njk0NWMtNTY0Yi00MzNjLThiNDMtMzAyMmQxOTVhMmNh%40thread.v2/0?context=%7b%22Tid%22%3a%2213e3b186-c446-4aab-9c6d-9ab9bb76816c%22%2c%22Oid%22%3a%2283952fb2-f636-4c14-a51f-c47e53da96e0%22%7d
We are looking forward to welcoming you!
Kind regards,
University of Galway ISPOR student chapter
Details:
The global population is aging at a faster pace than ever before. This demographic transition will have an significant impact on society. During The COVID-19 pandemic, many healthcare services were cancelled or postponed, and this has highlighted even more the serious gaps existing in social and healthcare systems and services for the aging populations.
· Speaker 1:
Dr Niamh Hennelly
Dr Niamh Hennelly is a Research Fellow in the Irish Longitudinal Study on Ageing (TILDA) working on the Healthy and Positive Ageing Initiative (HaPAI) on the advancement of social care in Ireland. Prior to working with TILDA, Dr Hennelly worked as a Post-doctoral Researcher with the Centre for Economic and Social Research in Dementia, University of Galway, where her work focused on social research on dementia. She completed her PhD at University of Galway in 2020, examining personhood in dementia in formal care relationships in Ireland. Her research interests include social gerontology, dementia, health policy and health services research. She is presenting her study on the relationship between delayed healthcare utilisation and chronic conditions among older adults during the COVID-19 pandemic.
· Speaker 2:
Dr. Yongjie Yon
Dr. Yongjie Yon is a Technical Officer on Ageing and Health in the Policy and Governance for Health Through the Life-Course unit at WHO Regional Office for Europe. He has published in leading academic journals on research relating to public health including ageism, elder abuse, child maltreatment, intergenerational relations, oral health, housing, road traffic injuries and health disparities. He was a Doctoral Fellow with the Social Sciences and Humanities Research Council of Canada and received his PhD in Gerontology from the University of Southern California, United States. Prior to WHO, Dr Yon worked for the Federal Government of Canada as a Policy Analyst on seniors' policies. His presentation will focus on the UN Decade of Healthy Ageing and WHO Europe's framework for action.