AIIP Lecture & Masterclass - The Role of Open Innovation in SMEs
About this Event
Nuran Acur, Professor of Innovation Management at Adam Smith Business School, University of Glasgow will deliver a lecture The role of open innovation in SMEs followed by an intensive masterclass.
Lecture: All welcome:
Time: 8:15am-9:15am
Venue:   MY127, Aras Moyola, NUI Galway
'How can small companies and start-ups benefit from open innovation strategies?
She will discuss:
Open Innovation in the context of SMEs and start-ups
Benefiting from open innovation
Managing innovation partners and the innovation network
Managing intellectual property in open innovation
Masterclass: Limited to 25 places
Time: 9:30am-11:00am
Venue: MY126, Aras Moyola, NUI Galway
'The challenges and pitfalls around collaborating: advice and tips for SMEs'
This will feature an intense workshop where Nuran will take individuals through their specific openness business-related challenges and give advice, suggestions and an opinion on how best to open up your business and type of collaboration. She will explore some pitfalls around trying to collaborate with other businesses/actors and give some tips and hints as to how they are best avoided.
These are some of the questions she will focus on in the lecture and masterclass:
Why does open innovation in SMEs deserve more attention?
What is the right type of open model to follow?
Which kind of collaboration is right for you?
How could SMEs and start-ups organize and manage open innovation successfully
The Masterclass is specifically targeted towards people who have a business and are bringing a business challenge to work on in the class. The Lecture covers open innovation strategies more broadly. If you do not have a business challenge, we recommend that you remain registered for the lecture only.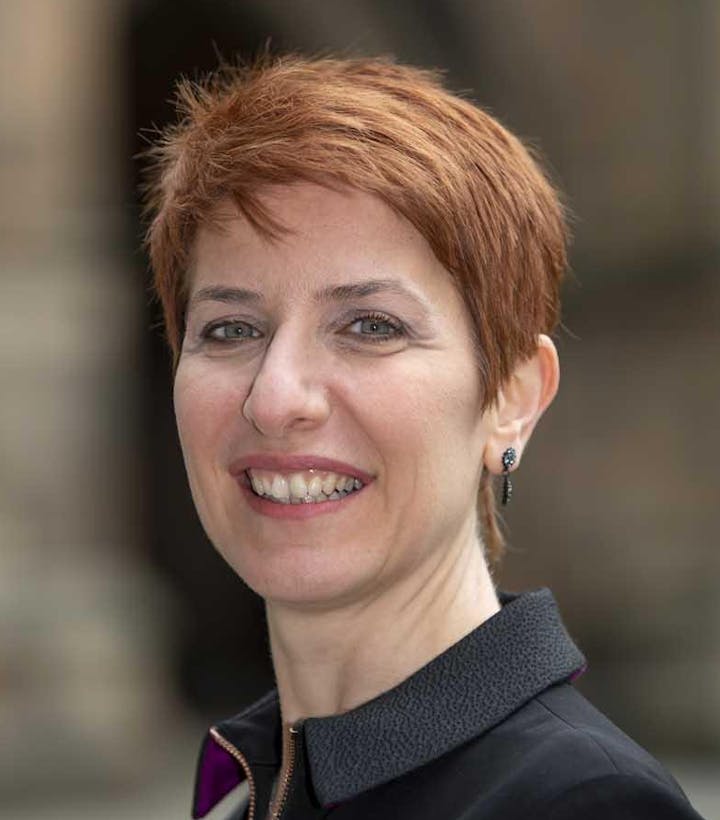 Nuran is currently Professor of Innovation Management in the Adam Smith Business School. Nuran previously worked at Strathclyde University (UK), Ozyegin University (Turkey), Aalborg University (Denmark), and Bilkent University (Turkey). Nuran has also held Visiting Scholar positions at the Sloan School of Management at the Massachusetts Institute of Technology (USA), at the London Business School (UK) and Trinity College Dublin (Ireland).
Nuran has published award winning, theory-driven, policy - and practice - relevant articles across the fields of technology innovation, open innovation, digital innovation and innovation strategy. Exploring aspects of technological, open business collaborative models at organizations, Nuran pursues a mainly curiosity driven, yet theoretically rigorous, empirically grounded and practice-relevant, research agenda.  She has published more than 60 articles and papers, edited numerous books and publications and has won several awards such as 'Most Inspirational Conference Paper Award' by European Academy of Management Conference, BAM conference Best Development Paper Award' (2015), EmeraldLiteratiNetwork, Highly Commended Paper Award (2005), EurOMA-POMS Best Conference Paper Award (2003). Nuran's research has been supported by various organisations, including the British Council, the Economic and Social Research Council (ESRC), EPSRC, Innovate UK, and the Scottish Funding Council (SFC). Currently, she is an academic research lead on new innovation ecosystem and technology policy supporting space-enabled applications and services for connected and autonomous vehicles, supported by the UK Space Agency (UKSA) and the European Space Agency (ESA), in Project Darwin. Project Darwin brings together Oxford and Glasgow Universities, leading telecommunication and satellite operators, start-ups specialised in self-driving mobility solutions, and a company connecting terrestrial and satellite communications.
Nuran teaches courses on creativity and innovation, technology transfer and business development and global innovation at postgraduate and executive education levels.
InterTradeIreland All-Island Innovation Programme
The All-Island Innovation Programme is funded by InterTradeIreland which aims to promote and encourage innovation across the island of Ireland. A series of free innovation lectures, seminars and masterclasses are held throughout the year to share international best practice in areas of innovation. The Programme is delivered in partnership with InterTradeIreland, Queen's University Belfast, NUI Galway, Dublin City University and University College Cork.
http://www.intertradeireland.com/all-island-innovation-programme/
Hashtag: #AIIPseminars