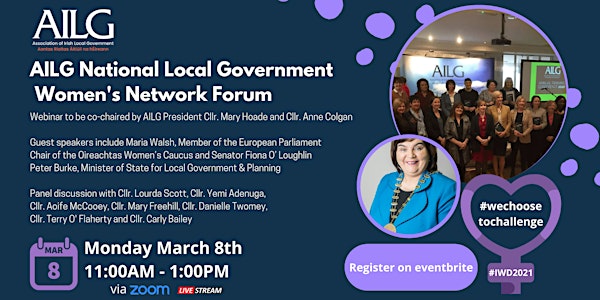 AILG National Local Government Women's Network Forum
The Association of Irish Local Government (AILG) is hosting an online National Local Government Women's Network Forum
About this event
The Association of Irish Local Government invites you to join us at our National Local Government Women's Network Forum which will take place virtually to coincide with International Women's Day on 8 March 2021 from 11:00am – 1:00pm.
The theme for the online event is #wechoosetochallenge where we will be discussing what women bring to the role of the councillor; how women can bring new vision and ideas to local government and local leadership; how women can challenge themselves and others to be the best they can be as local representatives.
Peter Burke, Minister of State for Local Government and Planning will give an opening address and discuss his Departments recent initiatives on supporting women & diversity in local government.
Guest speaker Maria Walsh, will share her experience of being a member of the European Parliament since being elected to the role in July 2019.
Chair of the Oireachtas Women's Caucus and Senator Fiona O' Loughlin will discuss the Oireachtas Women's Caucus and their ambitious work programme for 2021.
This will then be followed by a wide-ranging panel discussion with Cllr Terry O' Flaherty, Cllr Lourda Scott, Cllr Yemi Adenuga, Cllr Danielle Twomey, Cllr Mary Freehill, Cllr Aoife McCooey and Cllr Carly Bailey.
The webinar will be co-chaired by Cllr. Mary Hoade, President, AILG and Cllr. Anne Colgan, former Vice President, AILG.
This event is free.
You will receive the Zoom link to our webinar before the event.
Starts: 8 March 2021 11:00AM
Ends: 8 March 2021 01:00PM
Location: Zoom