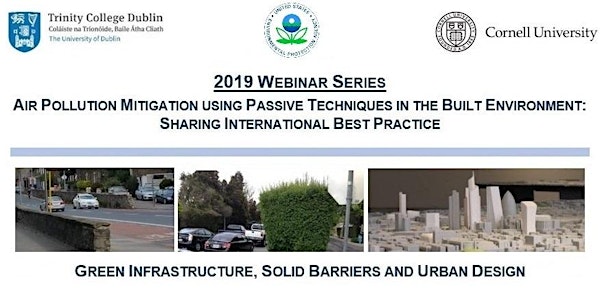 Air Pollution Mitigation using Passive Techniques in the Built Environment
Description
2019 Webinar Series
Air Pollution Mitigation using Passive Techniques in the Built Environment:

Sharing International Best Practice
---
This webinar series aims to bring together global experts to participate in a community forum for the dissemination of information relating to best practice around passive mitigation of air pollution in the built environment. Experts will provide their unique experiences relating to how they have gathered evidence relating to these passive techniques for air pollution mitigation, such as green infrastructure, solid barriers and urban design. They have done so in a range of methods: from real-world monitoring assessments to wind-tunnel experiments studies and theoretical simulations at micro- and macro-scales. A range of external air pollution specialists will also provide external contributions to the community of researchers working in the area of passive mitigation techniques to air pollution.
The series will take place across eight sessions in 2019 (four in Spring/Summer and four in Autumn/Winter), through monthly online presentations and interactive discussion sessions with international speakers from around the world. Each webinar will include two speakers who are experts in the field, coming from backgrounds of research, practice and governance. The discussions following these presentations will help identify remaining gaps in knowledge and will guide further research priorities to maximise the impact of these solutions. The outputs from the webinar series will help inform those implementing passive techniques for air pollution mitigation in the built environment of best practice on an international stage, which can support the response to protecting our urban inhabitants.
Autumn/Winter Series Dates (Information via links below)
Website: www.tcd.ie/civileng/air-pollution-webinar-series/
ResearchGate: www.researchgate.net/project/2019-Webinar-Series-Passive-Air-Pollution-Mitigation
Accessing Webinars: You will receive an email 72-hours, and again 1-hour, in advance of each webinar with log-in details.
---
International speakers and contributors include:
---
FAQs
Where is the link to the webinar?

The link to the webinar is not included in your Eventbrite ticket. You will recieve an email from the webinar organisers 72-hours and 1-hour in advance to the respective webinar with details of how to access and log-in to the Zoom platform.

What is the duration and structure of each webinar?

Each Webinar will take between 1 and 1.5 hours. There will be a minimum of three international speakers in each Session, with talks ranging from 10-20 minutes. This is followed by a Q&A session, and will be managed by the Session Chair.
In what formats will the Webinar material be available after each event?
The webinars slides will be shared with all registered participants via email, and they will be uploaded to the Webinar Website hosted by Trinity College Dublin and added to the Webinar Series Project on the ResearchGate platform.
Will the webinars be recorded?
Unfortunately, we will not be recording the webinars. However, you are welcome to contact the webinar organisers and speakers with follow up questions. In addition, requests for repeat webinar sessions have been made and the organisers will aim to accommodate this for specific audiences.
How will the webinars be accessed?

The webinar series will be hosted on the ZOOM platform and managed by Cornell University. This is an online platform which can be accessed through all popular web browsers.

When will the webinars take place each month?

On the fourth Thursday of each month, the webinars will take place in the morning for U.S. (between 08.00 and 11.00, late afternoon in Europe (between 16.00 and 18.00) and late evening in Asia (between 20.00 and 00.00).

How can I contact the organizer with any questions?
This webinar series is organised by Asst Prof John Gallagher from Trinity College Dublin and please email him with any questions regrading the webinar (j.gallagher@tcd.ie).
I would like to participate in the Autumn/Winter programme for the webinar series?
The Autumn/Winter webinar programme is currently in development and will be completed in May 2019. If you wish to enquire about participation to present research of your own of your research group, then please contact John Gallagher (j.gallagher@tcd.ie) to identify opportunities to contribute to the programme.