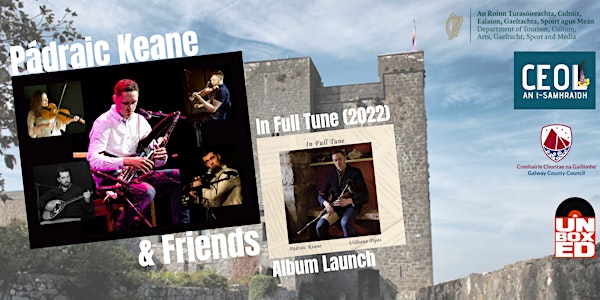 Album Launch, 'In Full Tune' ( 2022 ) with Pádraic Keane & friends
Local Musician Pádraic Keane will launch his latest album ' In Full Tune ' on the night
When and where
Location
Oranmore Castle Castle Road Oranmore Ireland
About this event
'In Full Tune' (2022)
'In Full Tune' is the debut solo piping album by Galway piper Pádraic Keane. The music featured on the album is a mix of both popular and lesser-heard tunes from the traditional repertoire. Inspiration is drawn from the music which he learnt growing up, as well as from the piping tradition of the last two centuries. The music is performed on three sets of uilleann pipes made in the 19th, 20th and 21st centuries, which are detailed in the album notes along with insightful information on the tunes.
Visit www.padraickeane.com for more information on the album
Pádraic will be joined on the night by Ruairí and Fergus McGorman, Aidan Connolly and singer Saileog Ní Cheannabháin. As musicians and friends these five people have known and played together over the last 15 years, so they have an intricate knowledge of each others music. While they have all been involved in other recording projects this year they are hoping to start recording a new album together.
On Aidan Connolly's solo CD, the other four musicians guested as a quartet on one track and it was from here the idea of becoming a group grew. Their first performance together at the Corofin Traditional Music Festival in 2020 was greatly received, further planting the idea of recording together.
The aim of the group is to establish themselves as a collection of musicians, eschewing unusual and lesser recorded tunes, punctuated by well known tunes, in tasteful and thoughtful arrangements that remain grounded in the tradition.
Bios
Uilleann piper Pádraic Keane was born into a great musical family in Maree, Co. Galway. In 2011 he was awarded TG4 Young Musician of the Year and tutors at many festivals in Ireland and abroad. He has toured the US as a soloist with The Irish Chamber Orchestra and has collaborated with Mícheál Ó Súilleabháin, and The RTE Concert and Symphony Orchestra.
Padraíc has featured on The Rolling Wave - a CD of young pipers issued by Na Píobairí Uilleann, as well as Raelach Record's first compilation album. He also recently featured as part of The Masters of Tradition Festival held in Bantry House and curated by Martin Hayes.
Brothers Ruairí and Fergus McGorman from County Meath, come from a family steeped in traditional Irish music. Both their mother and uncle, Catherine and John McEvoy, are highly esteemed musicians on flute and fiddle respectively. Both play music in the North-Connacht style, which is reflected in Fergus' flute playing, who also cites the playing of Peter Horan, Packie Duignan, Patsy Hanly, Seamus Tansey and other flautists associated with the regional style as major influences. The whistle playing of Jim Donoghue has also impacted his style.
In 2018, Fergus released his first solo CD entitled 'Sweeping the Cobwebs Out of the Sky', funded by the Arts Council, which show cased his North-Connacht style.
Ruairí is a Greek bouzouki player and multi-instrumentalist who plays in the style of his teacher, Alec Finn of De Danann fame. A fiddle player also, Ruairi became interested in bouzouki by listening to the recordings of Frankie Gavin and De Danann, and quickly became a pioneer of the Alec Finn-style of accompaniment.
Ruairí has appeared on a number of recordings alongside some of Ireland best traditional musicians, including Jack Talty, John Blake, Paudie and Aoife O'Connor, Aidan Connolly, and many more. He also provided accompaniment on his brother Fergus' aforementioned solo CD.
Aidan Connolly is a fiddle player from Rathfarnham, Dublin, who has been heavily influenced both by the musicians of his locality and the great fiddlers of times past including Paddy Cronin, Paddy Canny and Denis Murphy. He has studied traditional music in-depth and is a highly respected authority on traditional instrumental music from the 1920s onwards. Aidan has a tremendous interest in archive materials (books, manuscripts, recorded sound, etc.) and has a vast repertoire of tunes of traditional and more contemporary origin, as well as from other folk music genres.
He released his first solo CD 'Be Off' in 2016, and a fiddle duet CD with John Daly in 2019.
Saileog Ní Cheannabháin is a musician, singer and composer. A native Irish speaker, who grew up in Dublin, her sean-nós singing style is mainly influenced by singers from Iorras Aithneach in the Connemara Gaeltacht, where she spent a lot of time over the years. Her father Peadar is a sean nós singer from Connemara, her mother Úna Lawlor is a classical violinist and her siblings Eoghan and Muireann are also singers and musicians.
She plays Irish traditional music on fiddle, piano and viola, and also studied classical piano for twelve years at DIT, mainly with Shirin Tobin, and subsequently continued lessons at University College Cork, with Andrew Zolinsky and Tra Nguyen. Saileog had the opportunity to study many genres of music and experience and explore various approaches to music during her time at UCC. Having graduated with a BMus (2009), UCC awarded her the Seán Ó Riada Prize, for a study of the Songs and Singers of Iorras Aithneach. She has performed at various festivals and venues in Ireland and abroad, and has also featured on music programmes for TG4, Raidió na Gaeltachta, Lyric Fm, RTÉ Radio 1 and BBC Alba.
Saileog's 2016 album Roithleán, is an album of of Irish traditional music and sean nós songs, produced by Jack Talty, and released on the Raelach Records label. The recording also includes some of her own tune compositions. It features solo piano, fiddle, viola, and sean nós singing, as well as tracks with guest musicians.
One of Saileog's recent projects includes arrangements of sean nós songs from Connemara and An Rinn, as part of a duet with Ailbhe Nic Dhonncha from An Rinn, Waterford. They also occasionally perform with other guests including Pádraic Keane and Eoghan Ó Ceannabháin.
In the summer of 2018, she composed, arranged and performed original music, in collaboration with Maitiú Ó Casaide for the play Baoite, written and directed by Darach Mac Con Iomaire. Baoite was commissioned by the Abbey Theatre, and performed for ten days in An Taibhdhearc,as part of the Galway International Arts Festival 2018.
Saileog also teaches classical and traditional piano, traditional Irish fiddle and sean nós singing.