About this Event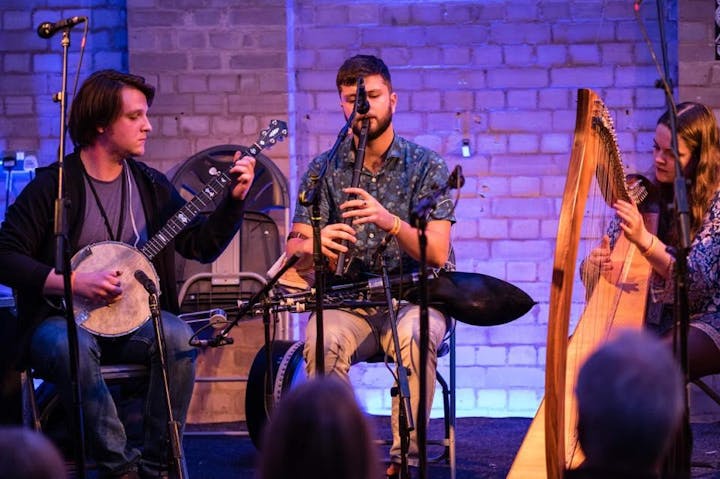 Discovery World Music Sessions
Gandharva Loka are proud to present the fresh and exciting trio of Alfi, an American Old Time and Traditional Irish Music group to our flagship event, the Discovery World Music Sessions. This promises to be a special gig in the intimate space above the shop on Georges Street. Tickets are limited so get them while you can.
About Alfi
Alfi are a fresh new trio combining American old-time and traditional Irish music and song to produce a unique and tasteful sound. Their music features an unusual blend of harp, five-string banjo, low whistle, uilleann pipes and vocals.
Alfi came together as a trio in the summer of 2017, playing their first gig at Arcadian Field festival to an enraptured and energetic audience. The trio have since performed at many established venues and festivals, including Body&Soul, Knockanstockan and IMBOLC International Music Festival. They are the current winners of the 'Molloy Award' competition for young bands at the Trip to Birmingham Tradfest, as well as the winners of the 'Caoimhín Ó Dochartaigh' competition at IMBOLC.
Since forming as a trio, Alfi have spent the year performing throughout Ireland and abroad and are looking forward to recording and releasing their debut EP in May 2019
Check out their music here: https://alfi.bandcamp.com/releases
For more performances in the Discovery World Music Sessions, please check out www.gandharvaloka.ie or find us on Facebook at @World.Music.Store