Location
Aviva Insurance Ireland
Hatch Street Upper
Dublin
Ireland
Description
You are cordially invited to part 2 of a very special 2-evening event. Agile-Lean Ireland presents The Fringe Gathering - a celebration of Scrum. If you are in town for the Scrum Gathering, this is a great opportunity to continue your Scrum learnings with some of the best international and local agilists, right in the heart of Dublin. We'll follow up the talks with some drinks and networking.
We are delighted to be joined by 2 giants of Scrum - on Tuesday we will welcome author of the books Scrum Mastery and Product Mastery, Geoff Watts, live and in-person! Then, on Wednesday, we will be joined live via Skype by co-creator of Scrum, Jeff Sutherland, and by Dublin's very own Martin Kearns! These are 2 evenings not too miss!
Note: details to RSVP for Fringe Gathering part 1 are here
Talk #1 - Scrum at Scale: The Path to Agile - live via Skype (Jeff Sutherland)
Recent polling of thousands of Scrum practitioners in the U.S. and Europe indicate that 66% of organizations are at the beginning stage of scaling Scrum. The biggest challenge to advancement across the board, from startups to Fortune 100 companies, is management being locked in a Waterfall mindset, assuming that agility only applies to developers.
In order to achieve the radical improvements in productivity that are possible with Scrum, the management must change their strategy, goals, and incentive programs. This is the path to business agility.
About Jeff Sutherland
A former US Air Force "Top Gun," Dr. Jeff Sutherland is the inventor and co-creator of the SCRUM framework. Developed in 1993 and formalized in 1995 with Ken Schwaber, Scrum has since been adopted by the vast majority of software development companies around the world.
Realizing its benefits extend well beyond software, Jeff pioneered the application of this lightweight framework to several other industries including: automotive, biotech, finance, and telecom. As the CEO of Scrum Inc. Jeff sets the vision for success with Scrum. Dr. Sutherland coaches and instructs how to implement Scrum in ways that create hyper-productive teams that disrupt the competitive landscape. He continues to share best practices with organizations around the globe and has written extensively on Scrum rules and methods. His most recent book, Scrum: The Art of Doing Twice the Work in Half the Time, has sold over 100,000 copies.
Talk #2 - Story Bud ?? Scrum is Irish Alrigh (Martin Kearns)
Over my years in trying to become a better Scrum Master and Coach i have had to search for inspiration in many different places. And to my shock all my searching in foreign books, I forgot what was in my own back yard. My goal to is share with you ideas i have found in Irish Folklore and Celtic origins, and how it has helped me find inspiration in my personal development.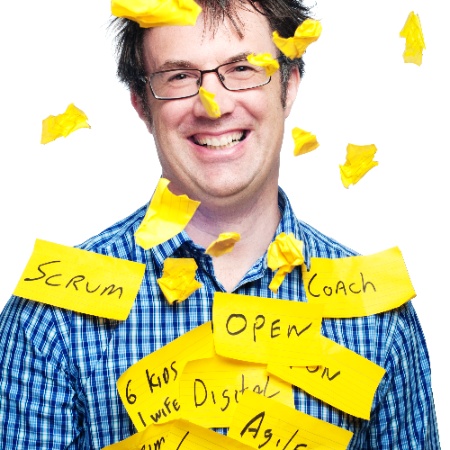 About Martin Kearns
Martin is a pioneer in the field of Scrum, being one of the first three Scrum Coaches in the world to be certified by the Scrum Alliance. His forte is in the coaching of individuals and organisations to improve their application of the Agile process and to build high performance teams. He has an infectious passion for Agile and is heavily involved with the community.
This meetup is proudly sponsored by:



---
Exclusive 20% Discount for Global Scrum Gathering Dublin!
Agile-Lean Ireland is delighted to offer our community an exclusive 20% off discount for the Global Scrum Gathering in Dublin from October 30th to November 1st. This is a massive saving only available to ALI members.
The 20% off code to be used - SGDUBALeanUserGroup - at checkout at registration: https://www.regonline.com/builder/site/Default.aspx?EventID=1874078&
---
Agenda:
6-6.30pm: Registration & networking
6.30-7.30pm: Scrum at Scale - the Path to Agile - Jeff Sutherland
7.30-8.30pm: Networking & drinks at local pub