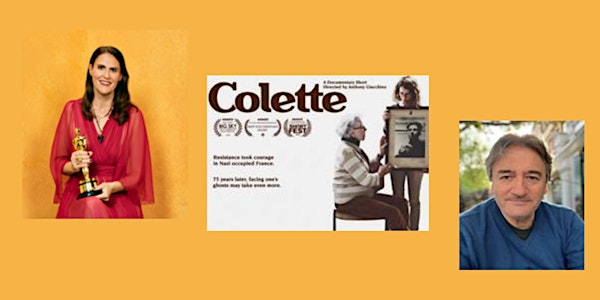 Alice Doyard 'Colette' with Fergal Keane YA Event
Alice Doyard 'Colette' with Fergal Keane YA Event
When and where
Location
Kerry Writers Museum 24 The Square V31 RD93 Listowel Ireland
About this event
As a young girl, Colette Marin-Catherine fought the Nazis as a member of the French Resistance. Since 1945, she has refused to set foot in Germany. That changes when a history student named Lucie enters her life and encourages her to visit the concentration camp where the Nazis killed her brother.
The film is a journey of discovery on many levels, but the film's greatest revelation is Colette herself, who at 90, is finally ready to let go of what she has, for over seven decades, held so tightly inside.
Alice Doyard is an Oscar winning French producer and director. In 2021, Alice won an Oscar for the Short Documentary 'Colette'. Originally a mathematician, she started a career in film making in 2008.She is widely recognized for her skill in finding powerful human stories in places as diverse as the battlefields of the World Wars or the forests of Congo. Her most recent film is Platform 5: Escaping Ukraine (BBC2 2022). Her work with Fergal Keane and the BBC News team on the downfall of the dictator Robert Mugabe was awarded with a Golden Nymph at the Monte Carlo Television Festival in 2018.
Fergal Keane is a proud father and an award-winning journalist and author. He currently works as Special Correspondent for BBC News. Some of the numerous prizes he has been awarded include a BAFTA and an EMMY. His most recent book 'Wounds' on the War of Independence in North Kerry won the Ewart Biggs Prize and was Irish non-fiction book of the year.
All events or shows will be filmed or photographed. Buying a ticket affirms your consent to the filming, sound recording, or photographing of yourself as a member of the audience. Photography and recordings are strictly forbidden without the permission of the Listowel Writers' Week Literary Festival Management.