Once Again we will perform Eid Al-Adha at the historic Croke Park, Alhamdulillah ! Be part of History of Islam in Ireland.
About this event
"The Messenger of Allah ﷺ used to go out to the prayer place on the day of Eid al Fitr and Eid al Adha…" [Bukhari & Muslim]
A historic moment for Irish Muslims to perform the Eid Prayer as per Sunnah of the Holy Prophet Muhammad ﷺ outside and in Ireland's iconic Croke Park Stadium.
• Arrive on time; before 8:15am.
• Bring your own prayer mat.
• Children & Sisters Friendly.
• Prayer will be performed on the clean pitch.
• Public representatives and Abrahamic Faith leaders will attend to send their Eid Greetings to Irish Muslims.
•. Register to attend Eid al Adha in Croke Park as due to social distancing 500 people can attend.
•. The Eid al-Adha prayer shall be broadcasted live on RTE this year also
To partially cover the expenses of Eid Al-Adha at Croke Park this year and to avoid no shows registration is required. Please note this resgistration is not for the Eid Prayer but is merely a donation to IMPIC.
€5.00,- donation for an individual ticket
€15.00 donation for a Family ticket (Husband, Wife & 2 Children under 16)
Additional children tickets are available without any cost.
There are also seats available for those who wish to attend but can not afford a donation.
Parking places are limited and therefore there will be a small charge for parking. This is €7,- per car park.
Eid al-Adha this year again will reflect a positive representation of Ireland's growing diversity.
We also have partnered with the Islamic Centre Ireland to facilitate the distribution of Qurbani meat to Mosney Accomodation Centre (Direct Provision Centre) to Muslim Families. If you would like to order a Qurbani, you may do so through the Add On option.
We wish you and your Family a Blessed Eid al-Adha and look forward welcoming you to Eid at Croke Park 2021.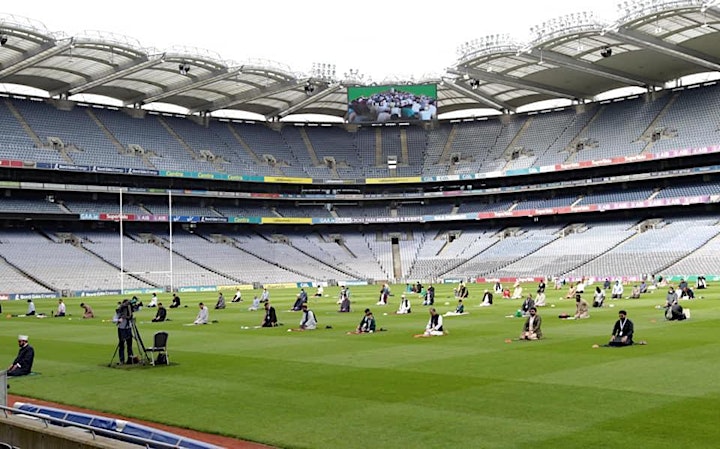 Organiser of All-Ireland Eid Al Adha Prayer at Croke Park 2021