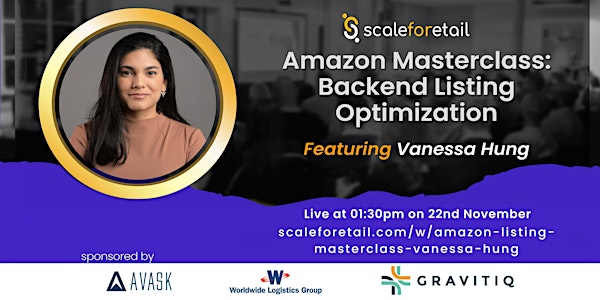 Amazon Masterclass: Backend Listing Optimization Featuring Vanessa Hung
Join us in a 4 hour Masterclass featuring Vanessa Hung to learn how to optimize all the options to your Amazon listings.
About this event
⚠️ Note: The webinar that was supposed to take place on November 17 has been rescheduled. The webinar has been rescheduled for November 22nd at 2:00 p.m. We apologize for any inconvenience this may have caused.
The good news is you can still grab your EARLY BIRD Ticket at the SFE Website (Register now to save £49.)
👉 https://scaleforetail.com/w/vanessa-hung-masterclass👈
Listings are everything on Amazon. You know this already.
You probably spend a lot of time and effort working on the text and graphics.
But have you also learned how to optimise all the other options on your listings?
Vanessa Hung has made a name for herself as the industry expert on Amazon systems. We're so excited to be hosting her 4 hour Masterclass on the 22nd Nov - and hope you're just as excited about attending!
She is awesome because she builds a deep understanding of the underlying systems then comes up with simple, repeatable, actionable ways for you to make the most of them.
Register now and secure your spot on the 22nd:
👉 https://scaleforetail.com/w/vanessa-hung-masterclass👈
Here are some highlights of what we're hoping to cover in the Masterclass:
🥇 How to use catalog management to improve your ranking
📁 Flat files - from first steps to fluent mastery (aka "how to talk to the Amazon bots in their own language"!)
📈 How to use flat files to simplify and improve your business
🤔 Understanding contributions on Amazon
❌ Nightmarish catalogue mistakes: how to avoid them, and how to recover from them
👩🏻‍🤝‍👨🏽 How to connect with the right people on Amazon Seller Support and get them to actually help you
📙 How to translate your listings to have multiple languages on the same ASIN
❓ YOUR questions answered: send in advance and Vanessa will prepare answers
If you've not seen Vanessa speak before, hopefully you can join us for the free webinar on the 10th November. She will blow your mind with her insightful, well-organised and simple strategies for managing Amazon listings.
If you've learned from her before then you'll know that this Masterclass cannot be missed.
Grab your ticket today and we'll see you on the 22nd!
👉 https://scaleforetail.com/w/vanessa-hung-masterclass👈
Vanessa has been transforming Amazon businesses since 2017 but every day is still a learning day. Make the 22nd your learning day and join us live!
This is a session for business owners - but consider getting a second ticket for your VA too so they can join us live and get their questions
answered too.
Register today, then join us on the 22nd to master Amazon Backend Listing Optimisation.
👉 https://scaleforetail.com/w/vanessa-hung-masterclass👈
See you soon!
Christian and Shelley
The ScaleForEtail team