Description
NEUROSCIENCE FOR INNOVATION & PERFORMANCE COACHING
Masterclass with Amy Brann in conjunction with EMCC Ireland
This Masterclass is designed to help you as a coach grow in your understanding and confidence in how your coaching works and how to best support others. The context of this workshop is the impact of innovation and change on the workplace and on the changing perspectives of performance management.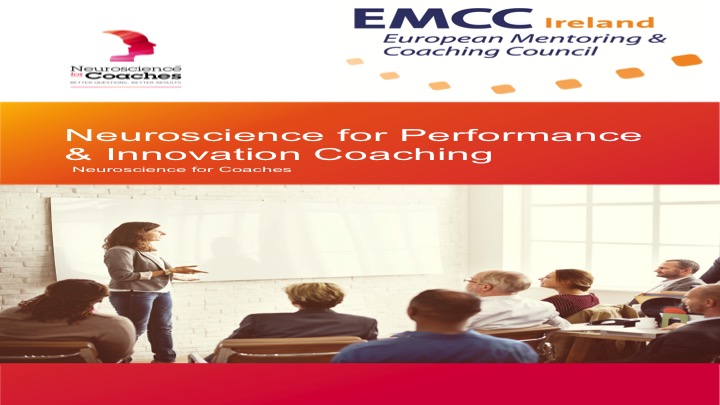 The workshop will be interactive and the examples we use will be tailored to your needs.
The applications of neuroscience for coaching are far-reaching. Typical takeaways people have found:
BEHAVIOURS – what's helpful, what's not? How to develop new behaviours and when to dig into motivation.

CREATING A POWERFUL RELATIONSHIP – research tells us the quality of the relationship is key to coaching success. You can learn how to build rapport and empathy quickly and how to become deeply trusted.

DECISION MAKING – insights into what lies behind and drives decision making.

CONFIDENCE – how to build and protect it. You can learn how to recognize and deal with misplaced confidence.

COMFORT ZONES – how to get out of them. Is change always possible?

CREATIVITY - Helping clients to access creativity.

BREAKING AN IMPASS – is it possible? What do to when you've run out of ideas during a coaching session.

USING INTUITION – knowing when it is safe and appropriate to follow intuition.

SILENCE – good or bad? How to encourage wisdom to emerge from the silence.


ABOUT AMY BRANN
Amy passionately delivers the message that you/your organization have a huge amount of potential that can be better accessed if you understand how to work with your brain optimally.
Leaving UCL medical school to Coach clients around the world gave amy great insight into how to get the best from people wherever they are starting from.
Transitioning from Coaching into corporate work Amy founded Synaptic Potential which works with orgnizations strengthening their strategy, culture and performance.
The team works globally sharing reliably simple applications of neuroscience that lead to game changing insights and results. Having partnered with Bangor University's Behavior Change Centre the trainings gained additional credibility from the input of thorough researchers.
AMY is the author of 'Make Your Brain Work', 'Neuroscience for Coaches' & 'Engaged: The neuroscience behind creating productive people in successful organizations'.
Amy is normally found delivering a keynote somewhere around the world, with her head in a book or enjoying adventures with her daughter and husband.