Description
As part of the "Women in Inishowen Heritage" series, the Lands of Éogain invite you to this one day event to celebrate the life of Amy Young and her book '300 Years in Inishowen' published in 1929. The book focuses on the Young family relations in Culdaff and provides a fascinating insight into a society in transition.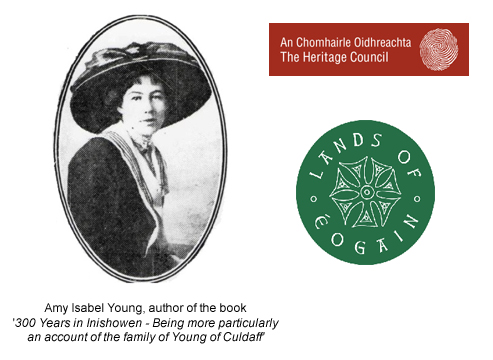 The day will start with talks including Rachel Magowan (granddaughter of Amy Young) followed by lunch and a tour of Culdaff House by George Mills (grandson of Amy Young). In the afternoon participants will be treated to a heritage bus tour by well-known heritage guides Dessie McCallion and Sean Beattie.
Venue: Meeting at St. Buadan's Church for talks. Followed by lunch in the Wee Hall, Culdaff, Inishowen, Co. Donegal.
Time: 11am - 5pm
This event has been funded by The Heritage Council.