Location
TEST SITE, Kyrls Street (Opposite Bridewell)
Kyrl's Street
Cork
Ireland
Come on a nature walk to meet some of our native trees and wild plants at An Choill Bheag, TEST SITE. Workshop guided by Niamh Ní Dhúill.
About this event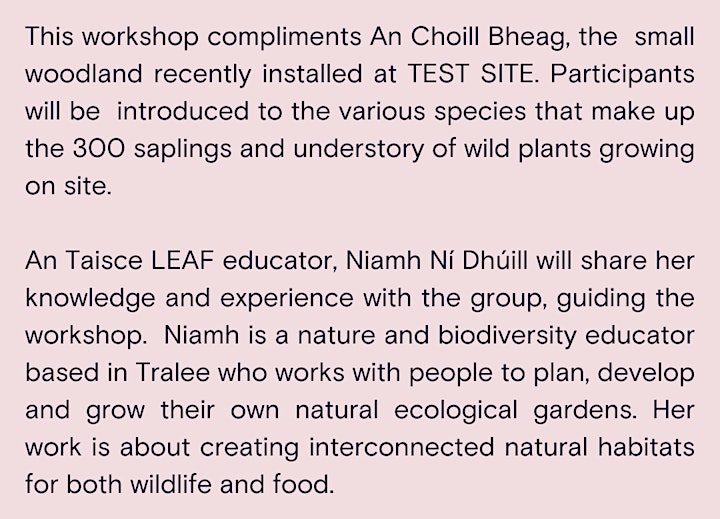 This is an outdoor, socially-distanced workshop, with limited capacity.
This workshop is open to people of all ages provided children are accompanied by an adult at all times.
If you have specific access requirements and would like to attend this workshop, please get in touch before the event.
The workshop takes place at TEST SITE, Kyrl's Quay. Gates are opposite the Bridewell Garda Station.
The workshop takes place out of doors and will last approximately 45 minutes.
Ticket holders should take weather conditions into account and wear appropriate outdoor clothing.
Please note that photographs and footage will be taken during the event, please advise if you do not wish to be inclued in any photography.
As Kyrl's Quay is an industrial site of significance we have retained as much of the original surfaces as possible. We advise visitors to walk respectfully through the site. We have also maintained the natural features of the site and ask that you respect this when you visit.
Please bring protective face coverings.
If you have booked a place on the workshop but cannot attend please let us know in advance so your place can be made available to someone else.
Email: hello@testsitekyrlsquay.ie
An Choill Bheag at TEST SITE is sponsored by Cork Chamber.
TEST SITE is supported by the Arts Council and Cork City Council Arts Office.