We are delighted to invite you to the Launch An Cosán's Irish Aid Project (10am), followed by The National Forum Webinar (10.30am).
About this event
10.00-10.20am Launch of An Cosan's Irish Aid project
This Project will run from April-October 2021
Project purpose: To increase the quality and effectiveness of development education integration in existing accessible Higher Education programmes in Social Enterprise, Community Development and Leadership by creating opportunities to listen to learner and tutor experiences and explore models of accessibility and identify specific Development Eduation themes.
10.20 -10.30am - Short break
10.30 -12.30pm - Webinar: "Social Action models of Teaching and Learning for Social Enterprise development"
This event is supported by the National Forum for the Enhancement of Teaching and Learning in Higher Education in partnership with Institute of Technology Carlow.
The webinar aims to:
Explore the relationship between social enterprise and social change
Identify and discuss implications for teaching and learning in different contexts
Examine opportunities for social enterprise education
Speakers and Topics
The webinar will bring together a very experienced panel of speakers, as detailed below: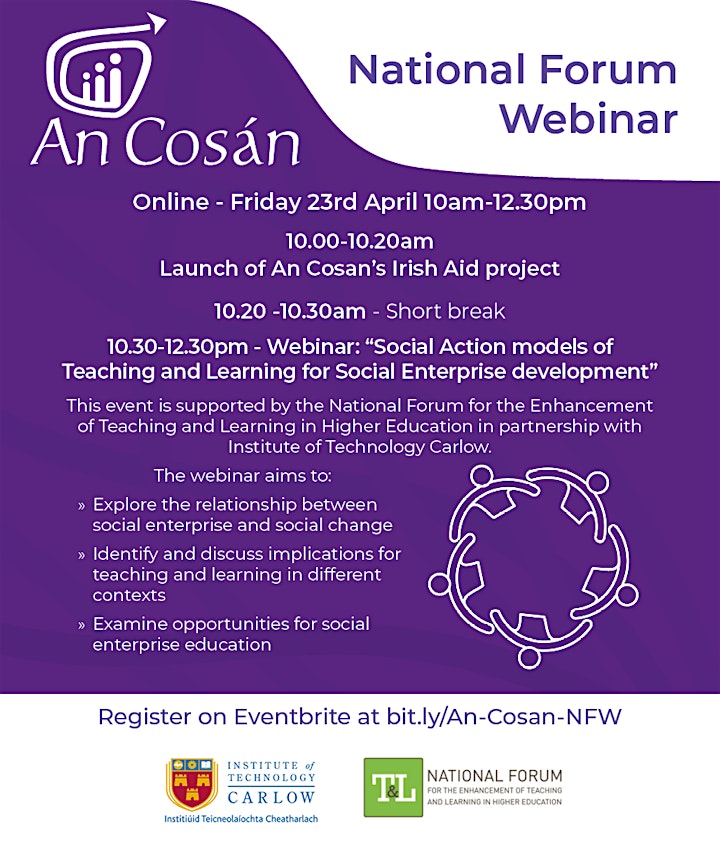 Organiser of An Cosán Irish Aid project launch and National Forum Webinar
About An Cosán
Discover your potential through face to face and blended online learning
Are you thinking about going back to education?  Would you like to join a short unaccredited module or achieve an accredited qualification with the option to progress to a Certificate, Higher Certificate or BA Degree? 
An Cosán is here to help you succeed through our model of lifelong community education.  We do this through our models of face to face and blended online education offering foundation, further and higher education, using the latest virtual and online technologies.
An Cosán (Gaelic for 'The Path') is Ireland's largest community education organisation. The mission of An Cosán is to bring about social equality and an end to poverty through community-based adult education, the provision of early years supports and empowering social enterprise development. Over the past three decades, An Cosán has provided pathways to empowerment via community education to thousands of people. More recently, the organisation has expanded its reach to a national scale using technology to deliver virtual access to its range of learning programmes.
Transformative learning is at the core of An Cosán's model of adult and community education. Recognising that the formal education system has failed a large portion of the community and that many adult learners have a deep distrust of mainstream education, An Cosán consciously seeks to create an alternative, welcoming space. Hospitality, providing 'a place of heart and home', is integral to the ethos, recognising that individual learners' basic needs must be met before they can excel in their studies. Specialised learner-centred supports facilitate each learner's lifelong learning goals, while addressing the challenges and barriers experienced in communities suffering disadvantage. Education is understood not only as personal development but as sustainable community development. All Learners are encouraged to participate in cross-community issues and reinforce commitment to community development. The environment makes a statement to the local community of Tallaght West and to communities nationwide about what they deserve, what they have a right to expect and what they have in large measure gained for themselves.
We provide people of all ages with pathways to learning, leadership and social enterprise. An Cosán offers a variety of affordable short programmes: 'First step back to Education', through to a wide range of options in community, further and higher education programmes including early years education and care, wellness, parenting, community development, leadership, addiction studies and social enterprise. Our accredited programmes offer progression paths towards Certificate, Higher Certificate and BA Degree awards and all our higher education programmes are accredited through our collaborative partnership with Institute of Technology Carlow.
Our programmes aim to support you to develop your own capacities and experience a sense of empowerment in your life and community. Within the lifetime of the current Strategic Plan 2018-2021, all our programmes will be delivered within the European Commission's Digital Competence Framework. A key element of our work is the development of a critical digital mindset, which prepares individuals to be adaptable and versatile in the face of ongoing and potentially far-reaching changes to the digitalization of societies. We focus on developing the 'digital agency' of individuals in terms of their development as digital citizens and digital workers.
For More Information
If you are interested in enrolling and receiving information on any of our Programmes, please contact our team on:
Address: Kiltalown Village Centre, Jobstown, Dublin 24
Tel: 01 - 462 8488 | Email: info@ancosan.ie | Visit our website: www.ancosan.ie |
Follow us on social media:
Twitter:                https://twitter.com/an_cosan
Facebook:            https://www.facebook.com/AnCosan
LinkedIn:              https://www.linkedin.com/company/an-cosan