An evening with Alan Turing by Dr James Grime - new venue!

Wednesday, 21 November 2018 from 19:30 to 21:00 (GMT)
Event Details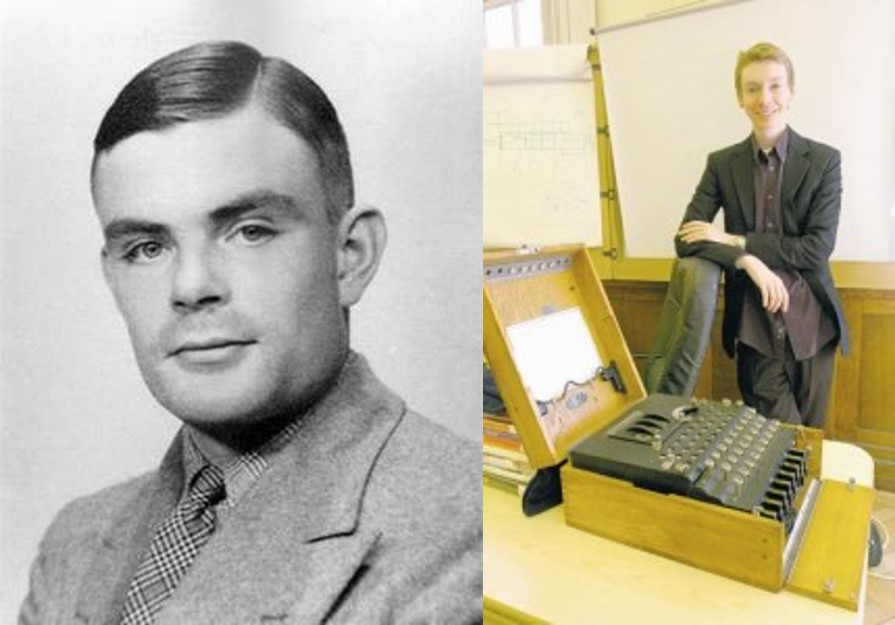 Alan Turing and the Enigma Machine
Enjoy an epic tale of man against machine – including a full demonstration with the original WWII Enigma Machine – as Dr. James Grime illuminates the brilliant mathematical insights and innovative thinking of Alan Turing. Known as one of the 20th Century's greatest mathematicians, Turing was a pioneer of computer science who is best remembered for his role in breaking the Enigma, the purportedly unbreakable code used by the German military.
Dr James Grime is a mathematician and public speaker. James now runs The Enigma Project and travels the world giving public talks on the history and mathematics of codes and code breaking. James is also a presenter of the YouTube channel numberphile.
Alan Mathison Turing OBE FRS (/ˈtjʊərɪŋ/; 23 June 1912 – 7 June 1954) was an English mathematician, computer scientist, logician, cryptanalyst, philosopher, and theoretical biologist.[2] Turing was highly influential in the development of theoretical computer science, providing a formalisation of the concepts of algorithm and computation with the Turing machine, which can be considered a model of a general purpose computer.[7][8][9] Turing is widely considered to be the father of theoretical computer science and artificial intelligence.[10] Despite these accomplishments, he was never fully recognized in his home country during his lifetime due to his homosexuality, which was then a crime in the UK.
During the Second World War, Turing worked for the Government Code and Cypher School (GC&CS) at Bletchley Park, Britain's codebreaking centre that produced Ultra intelligence. For a time he led Hut 8, the section which was responsible for German naval cryptanalysis. Here he devised a number of techniques for speeding the breaking of German ciphers, including improvements to the pre-war Polish bombe method, an electromechanical machine that could find settings for the Enigma machine. Turing played a pivotal role in cracking intercepted coded messages that enabled the Allies to defeat the Nazis in many crucial engagements, including the Battle of the Atlantic, and in so doing helped win the war.[11][12] Counterfactual history is difficult with respect to the effect Ultra intelligence had on the length of the war,[13] but at the upper end, it has been estimated that this work shortened the war in Europe by more than two years and saved over fourteen million lives.[11]
After the war, Turing worked at the National Physical Laboratory, where he designed the ACE, among the first designs for a stored-program computer. In 1948 Turing joined Max Newman's Computing Machine Laboratory at the Victoria University of Manchester, where he helped develop the Manchester computers[14] and became interested in mathematical biology. He wrote a paper on the chemical basis of morphogenesis,[3] and predicted oscillating chemical reactions such as the Belousov–Zhabotinsky reaction, first observed in the 1960s.
Source: https://en.wikipedia.org/wiki/Alan_Turing
Suitable for an adult audience.

When & Where

O'Flaherty Theatre, Arts & Science Concourse
NUI Galway
H91 FYH2 Galway
Ireland


Wednesday, 21 November 2018 from 19:30 to 21:00 (GMT)
Add to my calendar
Organiser
2019 Galway Science & Technology Festival Exhibition
Sunday 24th November at NUI Galway 10am - 6pm
70% Tickets were released on Saturday 16th November
Shows & Workshops bookings restricted to five per family
Scroll Down for all details 
To keep up-to-date with all our news -
like us on Facebook &
follow us on Twitter @galwayscience
#galwayscience
Printing Tickets: Download the Eventbrite App & save printing your tickets