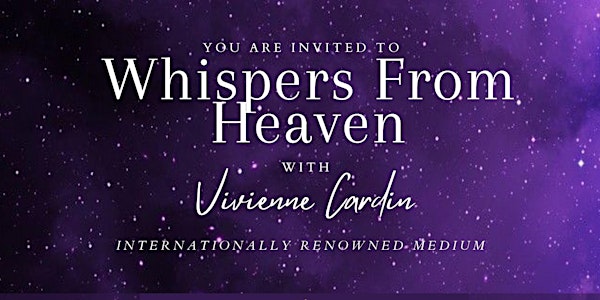 An Evening with Renowned Medium Vivienne Cardin and Delicious Dinner
Vivienne Cardin invites you to join her for this wonderful evening of connection and joy with our loved ones in Spirit .
Date and time
Saturday, April 1 · 7:30 - 9:30pm IST
Location
Mc's & Harvey Vevay Road Bray Ireland
Refund Policy
Contact the organizer to request a refund.
About this event
Vivienne Cardin is a third generation Spiritual Medium who is Internationally renowned for her incredible connection to Spirit. Her shows bring so much joy and healing because of her honesty, accuracy and delivery of evidence that proves beyond doubt that life goes on. Vivienne's dedication to her work has gained her the reputation as Ireland's People's Medium, her delivery and empathy are widely known . She is the true professional in her vocation. Her popular Live shows stretch to 103.2 Dublin City FM where she host GMD every Friday as well as her own Angel show. Vivienne's experience in Medjugorje has been widely broadcast in which she witnessed a beautiful lady and three angels, she has since been in constant communication with Angels and sees them daily even recording her own meditations channelled by them and produced these on CD and download. With her vast knowledge and experience in all aspects of the wonderful world of Spirit and angels you can rest assured that you are in the company of a true Medium.
About the organizer
A note from Vivienne: I have a hugely strong faith in Angels and have had so many experiences of their loving power all through my life. From intervention when I fell 20 feet from a window as a child to bringing me out of the depths of despair as an adult. The latter being for me one of the most incredible events of my life, that set me on an inspired journey working side by side with the angelic realm. When I was little my beautiful granny in Wexford would sing to all the children about the angels playing their harps for us.  Which conjured up magical images of cherubs sitting on white fluffy clouds playing harps that along with the usual images and statues that you would see in churches everywhere but growing up I never gave a lot of thought to all the things that happened around me especially when it came to all matters spiritual. 
I saw spirit from a very young age I also saw lights and auras around people especially when there were issues around them but was so used to if that I never made the connection. After all the churches depictions of angels and what I saw were quite different. As a teenager and young adult I came away from all things spiritual because my visions were so strong and I had constant premonitions which I found difficult to deal with so when my parents were taken away from us at a young age I lost all belief and faith in everything spiritual. 
All that changed in August 2005 when I reluctantly embarked on a trip to Medjugorje. I say reluctantly as I wasn't in a very good place in my life at all. I had lost all direction and had become very cynical about everything. I am very much a person that has to see something before I will believe it and that is because I believe in being honest about everything. I had been ignoring all the signs until then that had led the way, and as I now know brought me to this place, a place where so many people gather to get a glimpse of another world, some go year after year in hope of gaining the experience, but it wasn't like that for me I was only there to please someone else that had asked me to accompany them on the trip. When I found myself on top of apparition hill on that Tuesday night surrounded by people of all nationalities and all dominations.