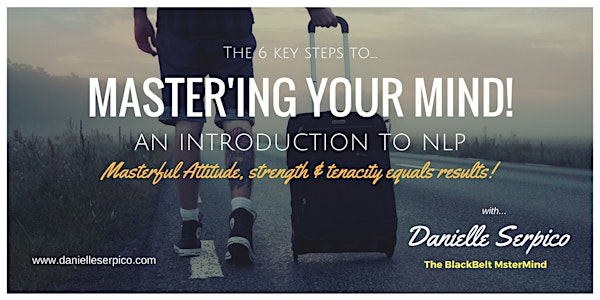 An INTRODUCTION to NLP - The 6 Key Steps to MASTER' ing your mind to success!
When and where
Location
The Central Hotel 1-5 Exchequer Street D02 E044 Dublin Ireland
Description
An introduction to NLP and my
MASTER System.
Due to the popularity of this talk there is Limited seating so make sure you register!

This is the basis of my beliefs and learning's and is outlined in my book 'The Blackbelt Mastermind'.
MASTER stands for 'Masterful, Attitude, Strength and Tenacity Equals Results'.

I will tell you my journey and my obstacles and how I picked myself back up with the help of my self development journey and my learning's from Hypnosis and Neuro-Lingustic Programming (NLP).
Research has proven that our unconscious habits rule the majority of our actions and decisions.

Knowing how to change these habits and being aware of them and how they form gives us back control.
We are not our brains.
Our brain works for us and in this Meetup I will discuss the 6 Steps you can take to lead a happier and more fulfilling life.
You will discover what your internal voice is saying.
How to change these thoughts to more useful ones by asking better questions.
How to get back your motivation and find your purpose.
How to be happier more often.
Remember.....
Its not your aptitude but your ATTITUDE that determines your altitude!
1 Hour Talk followed by Q&A and networking time -
I look forward to meeting you!
Your Mind Coach
NLP Trainer with the Society of NLP
Author * Radio Host * BlackBelt * Co-Partner @AUNUA