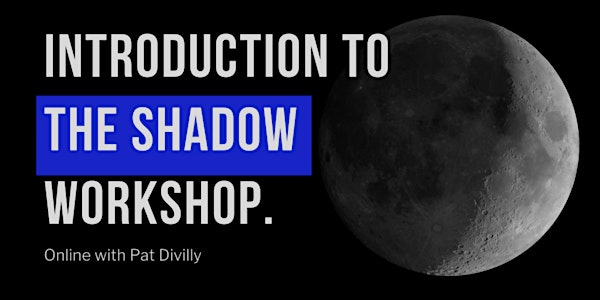 An Introduction To Shadow Work (Online Workshop)
This will be a gentle but transformative space for you to do some inquiry work relating to the shadow, and you will go only as far with it a
Refund Policy
Contact the organiser to request a refund.
About this event
"Every part of our personality that we do not love will become hostile to us." Robert Bly
What is the Shadow?
The shadow is all the disowned parts of us which we can't or don't want to see, and would rather we did not have.
Wherever we feel judgemental, angry, overly critical of ourselves, out of control, or disconnected, our shadow self is usually trying to make itself known to us.
Broadly speaking, these could be aspects of our wounding, impulses, or natural character traits which we are uncomfortable with or deem to be 'negative'.
Light from within the Shadow
The truth is we were all born as whole beings, so by denying the shadow parts of ourselves, we also hide our light.
Our shadow selves are calling out to be seen and felt and will persist in making themselves known until we do. Often through self-sabotaging patterns or destructive behaviours which we don't see.
Sadly, these beliefs often carry over into adulthood, which is why many of us have a hard time expressing our needs clearly or maintaining healthy boundaries, for example.
How is shadow work healing?
The shadow is what causes the most disturbance, dysfunction in the world and in our hearts.
This workshop will help you become peaceful and profoundly improve:
✅ Your relationships
✅ Self-confidence
✅ Inner courage
✅ Mental strength
✅ Leadership and management skills and
✅ Goals relating to your education, work and career.
At this workshop you will discover.....
Why there are no "bad" parts to us, and how to end feelings of shame, disgust or fear under much of how we see ourselves.
A process for meeting and becoming a friend to our shadow selves.
How to face our shadows and can reach an untapped well of pure potential energy, power and creativity.
How freeing it is to let go of our restrictions when they're no longer needed.
The positive aspects of our shadow selves, and a process for identifying the gold hidden underneath the clay, as we allow our true selves to be revealed.
Why attend the 'Introduction to Shadow work' workshop?
At the end of this session, it is likely you will feel a weight lifted off your shoulders…
So many of us have been unknowingly carrying the burden of our shadows our whole lives.
This will be a gentle but transformative space for you to do some inquiry work relating to the shadow, and you will go only as far with it as you feel comfortable.
Ultimately, you will come away from the session having found a method of making the unconscious conscious and the unacceptable acceptable.
Even at a basic level, this will be highly transformative at transcending the darker or unseen parts of ourselves. This is the most impactful of inner work we can do for ourselves and in the world.
You do not need to have any previous understanding or experience of shadow work to do this workshop.
Everyone is welcome to attend. All you need is pen, paper and curiosity.
FAQ's
When does the workshop take place?
The 'Introduction To The Shadow' workshop takes place Saturday, August 28th, 10 am - 5 pm with an hour for lunch.
How do I attend this online 'Introduction To The Shadow' Workshop?
The 'Introduction To The Shadow' Workshop will be live-streamed on Zoom. You will receive the link in advance of the session.
I would like to gift the members of my team or organisation tickets to this 'Introduction To The Shadow' Workshop event. How do I order multiple tickets?
Please send an email to Support@PatDivilly.com if you would like to make a group booking.