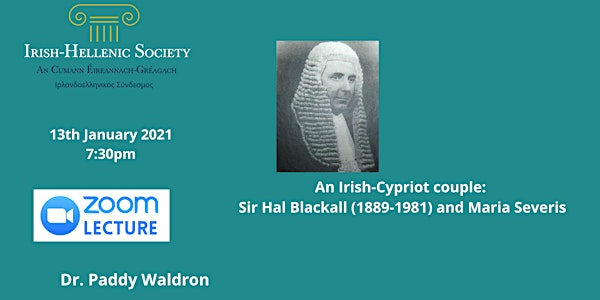 An Irish-Cypriot couple: Sir Hal Blackall and Maria Severis
Zoom lecture by Dr. Paddy Waldron: An Irish-Cypriot couple: Sir Hal Blackall and Maria Severis
About this event
Irish-Hellenic Society presents the lecture by Dr. Paddy Waldron (genealogist extraordinaire): An Irish-Cypriot couple: Sir Hal Blackall and Maria Severis
Following the lecture, we will be able to switch on our Zoom video cameras and microphones. So have a glass of something to hand, and we can greet each other and the New Year in the Greek way: with a virtual surprise.
Sir Henry William Butler Blackall QC (19 June 1889 – 1 November 1981) was an Irish lawyer and judge. He served as Attorney General of two British colonies in the mid 20th Century and served as Chief Justice of Trinidad and Tobago and Chief Justice of Hong Kong. His last position before retirement was as President of the West African Court of Appeal.
Maria Severis is the daughter of Demosthenes Severis (Chairman of the Bank of Cyprus). She married Sir Henry William Butler Blackall, on 21 April 1934.