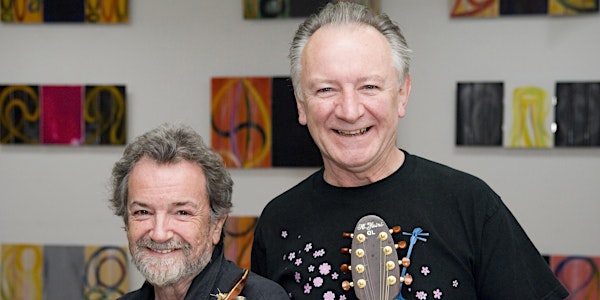 Andy Irvine & Donal Lunny
Andy Irvine & Donal Lunny. No Support Act. On Stage 8pm.
When and where
Location
Ballykeeffe Amphitheatre Ballykeeffe Kilmanagh Kilkenny Ireland
About this event
COVID-19 Notice
This event will be run strictly in accordance with government guidelines on Covid-19. If you are feeling unwell or have a temperature, we ask you not to attend the event.
Patrons are asked to observe government guidelines on social distancing, practice good hand hygiene, and adhere to the directions of stewards when parking and entering/exiting the venue to ensure a safe and enjoyable experience for everyone.
If you will be travelling outside Ireland fourteen days prior to the event, we ask that you not to attend the event.
Those travelling by car will be asked to park in small groups (approx 10 cars) and patrons will then be asked to enter the venue in these small groups (while observing social distancing). Patrons will also be directed to leave the venue in small groups.
Hand sanitising stations will be available throughout the venue and key touch points and toilet facilities will be sanitised regularly throughout the event.
No tickets will be available on the gate.
Andy Irvine and Donal Lunny
Two giants of the Irish trad scene, Andy Irvine and Donal Lunny are uniting for an evening of great music, a mixture of traditional songs, and originals composed by Andy.
Between them, Irvine and Lunny have been at the helm of legendary bands like Sweeney's Men, Planxty, The Bothy Band, Mozaik, LAPD and recently Usher's Island. Their unique style of accompaniment is an ongoing influence in the wider world of Irish music.
Andy Irvine and Dónal Lunny, in their separate ways, have contributed to a veritable renaissance in Irish traditional music. Between them, Dónal Lunny and Andy Irvine have careers that read like a 'Who's Who' of popular music.
Lunny has produced albums for Elvis Costello, Paul Brady, Clannad, and The Indigo Girls, and composed the soundtracks for Eat the Peach, and Teardrops. As a musician, Lunny has performed on more than a dozen Christy Moore albums, and was an integral part of such notable ensembles as Planxty, the Bothy Band, Mozaik and Moving Hearts. He has appeared on the BBC TV series, Transatlantic Sessions alongside the likes of James Taylor, Eddi Reader, Diana Krall and others.
Donal was MD of the House Band on the "Céiliúradh" concert in the Royal Albert Hall, part of President Michael D. Higgins' state visit to the UK. Andy Irvine also performed at this prestigious event.
Andy Irvine is an accomplished multi-instrumentalist, singer and songwriter with several solo albums to his credit. Formerly of Planxty & Sweeney's Men, Andy is a member of Mozaik, and Usher's Island along with Donal. He has played & recorded with Paul Brady, Christy Moore, Bill Whelan and Davy Spillane, and shared the bill in Dublin with Billy Bragg, celebrating the Woody Guthrie Centenary. He also took part in the Imagine concerts in the National Concert Hall, Dublin and the Royal Festival Hall in London.
Lunny and Irvine will present a programme of Irish music and Andy's songs with a bit of Eastern European music. Don't miss this unique opportunity to see these two legends of Irish music on stage together at the Ballykeeffe Amphitheatre on Sunday 25th July.
Event Notes
Gates open @ 7pm.
Andy Irvine & Donal Lunny will be on stage @ 8pm. There is no support act.
This is an outdoor event, please dress appropriately. (Bring cushions if you like!)
Persons Under 18 years of age must be accompanied and supervised by an adult at all times and must have a full priced ticket to attend.
The venue will be operating at reduced capacity. Tickets will be sold in groups of two or four seats - this is to maintain adequate social distancing while you enjoy the event.
All persons attending the event must have a valid e-ticket. The QR code only allows one entry per scan. Unauthorised duplication of this ticket may prevent your admittance to the event.
Security checks will be in place upon entry where prohibited items will be confiscated as necessary.
This event operates a No Refund Policy.
There is NO BAR at this event, but please feel free to bring a "picnic".
Please note we do have a less abled seating and parking area. Please email if required.
Event Sponsors
Dominic Delaney & Son Building Contractors
Image Showers
Philip Ireland Tyres Limited
Dairy Direct
Padraig Dermody Plant Hire