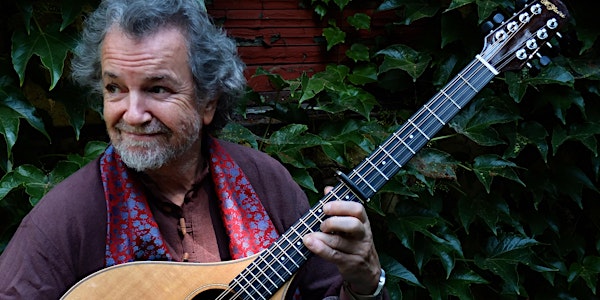 Andy Irvine - Music Under The Mountains 2022
Music Under The Mountains is delighted to welcome one of the pillars of traditional Irish music, Andy Irvine, back to Hollywood!
When and where
Location
St. Kevins Church of Ireland Hollywood Village Hollywood Ireland
About this event
Music Under The Mountains is delighted to welcome one of the pillars of traditional Irish music, Andy Irvine, back to Hollywood for an intimate solo performance.
Andy Irvine has enjoyed a long and successful career as a traditional Irish musician. He has travelled the world as a solo artist and as a member of legendary Irish groups such as Planxty and Patrick Street and more recently Mozaik. Throughout his extensive career he has maintained and developed the qualities in his music, which endear him to his audience and fellow musicians alike. After his introduction to the world of touring with Sweeney's Men in 1965, he continued to travel the world, leaving the band in 1968 to pursue his wanderlust. He travelled through Bulgaria, Romania and Yugoslavia, studying the music traditions and styles of these nations. It was these journeys, which led him to adopt the bouzouki in his performance. This new instrument allowed him to develop his own style while learning that of the Balkan countries he visited.
On his return to Ireland, Andy formed Planxty with fellow musicians Christy Moore, Donal Lunny and Liam O' Flynn. Planxty went on to achieve huge success and legendary status, reigniting traditional music as a popular genre. While Planxty took a break in 1967, Andy took the time to record another piece of work with Paul Brady. The two recorded a classic album together, simply entitled "Andy Irvine & Paul Brady". Planxty regrouped from 1979 – 1983. When the group permanently disbanded, Andy began his solo career. He recorded his first album "Rainy Sundays…. windy dreams" shortly after. His second album was "Parallel Lines" a duo album with the great Scots troubadour, Dick Gaughan.
Taking a break from working solo, Andy formed a band with Donal Lunny and some European friends called Mozaik. They completed one European summer tour before Andy returned to his solo and collaborative work. These collaborations led to the formation of Irelands first traditional "super group" Patrick Street. The group consisted of Kevin Burke (Bothy Band), Jackie Daly (De Dannan) and guitar maestro Arty McGlynn. The group toured from 1987–1990, releasing three albums in the process. They would regroup in 1993 to release a further five albums, although in between Andy recorded two solo albums. One of these albums consisted of entirely Balkan music, which Andy had learned on his earlier travels. In 2002, Andy finally formed his "dream band", Mozaik, with Donal Lunny, Dutch guitarist Rens van der Zalm, Hungarian bagpiper Nikola Parov and American fiddler Bruce Molsky. The group have completed tours of Australia, Europe and America and have released two highly acclaimed albums
Andy continues to tour the world with Mozaik as well as Patrick Street. He has also completed a brief series of reunion concerts with Planxty and Paul Brady in the last few years. His constant touring is testament to the fact that he is still as passionate about his music as when he began. As a musician and a living icon, Andy Irvine will remain in the Irish music scene for a long time to come.
The Noam Chomsky of Irish Balladry chisels out a new motherlode of sung literature….A bloody masterpiece - Irish Times
Andy Irvine is a tradition in himself - Irish Press
Andy Irvine is someone whose singing I have always loved. He always takes you to the place he's in. He creates a world … Andy singing a song like Bonny Woodhall or West Coast of Clare, or a song like The Jolly Beggar, songs of another era, but tapped into beautifully by Andy and his treatment of them. - Donal Lunny
I love that record. I absolutely love that record. [Andy Irvine/Paul Brady, Mulligan Album, 1976] - Paul Brady
FAQs:
Where is the venue?
St. Kevin's Church of Ireland is located in the small picturesque village of Hollywood in County Wicklow and has been the main venue for the festival since its inception in 1991. It is the oldest church in Leinster still in active use and dates back to the 17th century!
GPS coordinates: 53.091104, -6.595665
What are my transport/parking options for getting to and from the event?
Hollywood is a small picturesque village at the foot of the Wicklow mountains, bearing that in mind there are few public transport links in the area. Street parking is available in the village. The 65 Dublin Bus route provides a link to Blessington/Ballymore from Dublin city centre and local taxis are available in Blessington.
What facilities are available at the venue?
Bearing in mind that this is a 17th century church the facilities on site are limited. There are no toilet facilities on site, however the two pubs in the village have no issue with concert patrons using their facilities. The church is accessible to those with limited mobility or wheelchairs, if you have a specific need that must be catered for then please let us know and we will do our utmost to help! 
Do I have to bring my printed ticket to the event?
You will need to bring your printed ticket or confirmation email on your smartphone for entry to the concert.
Is it ok if the name on my ticket or registration doesn't match the person who attends?
Yes, but in this case we will need a physical copy of the ticket presented.
How can I contact the organiser with any questions?
Feel free to contact us with any questions or queries through Facebook or our website.