Annual An Cosán VCC Community Partner Forum - Wednesday 29th May 2019
Sales Have Ended
Registrations are closed
Thank you for registering to attend the Community Partner Forum on Wednesday 29th May 2019 in NDRC, Dublin 8. We will send you updates as new information becomes available and look forward to seeing you on the day. In the meantime if you have any questions, you can contact me on 086 8223808. Kind regards Maria Flanagan Community Partner Lead An Cosán Virtual Community College
Sales Have Ended
Registrations are closed
Thank you for registering to attend the Community Partner Forum on Wednesday 29th May 2019 in NDRC, Dublin 8. We will send you updates as new information becomes available and look forward to seeing you on the day. In the meantime if you have any questions, you can contact me on 086 8223808. Kind regards Maria Flanagan Community Partner Lead An Cosán Virtual Community College
Description
We are delighted to invite you to the 3rd An Cosán Virtual Community College Community Partner Forum.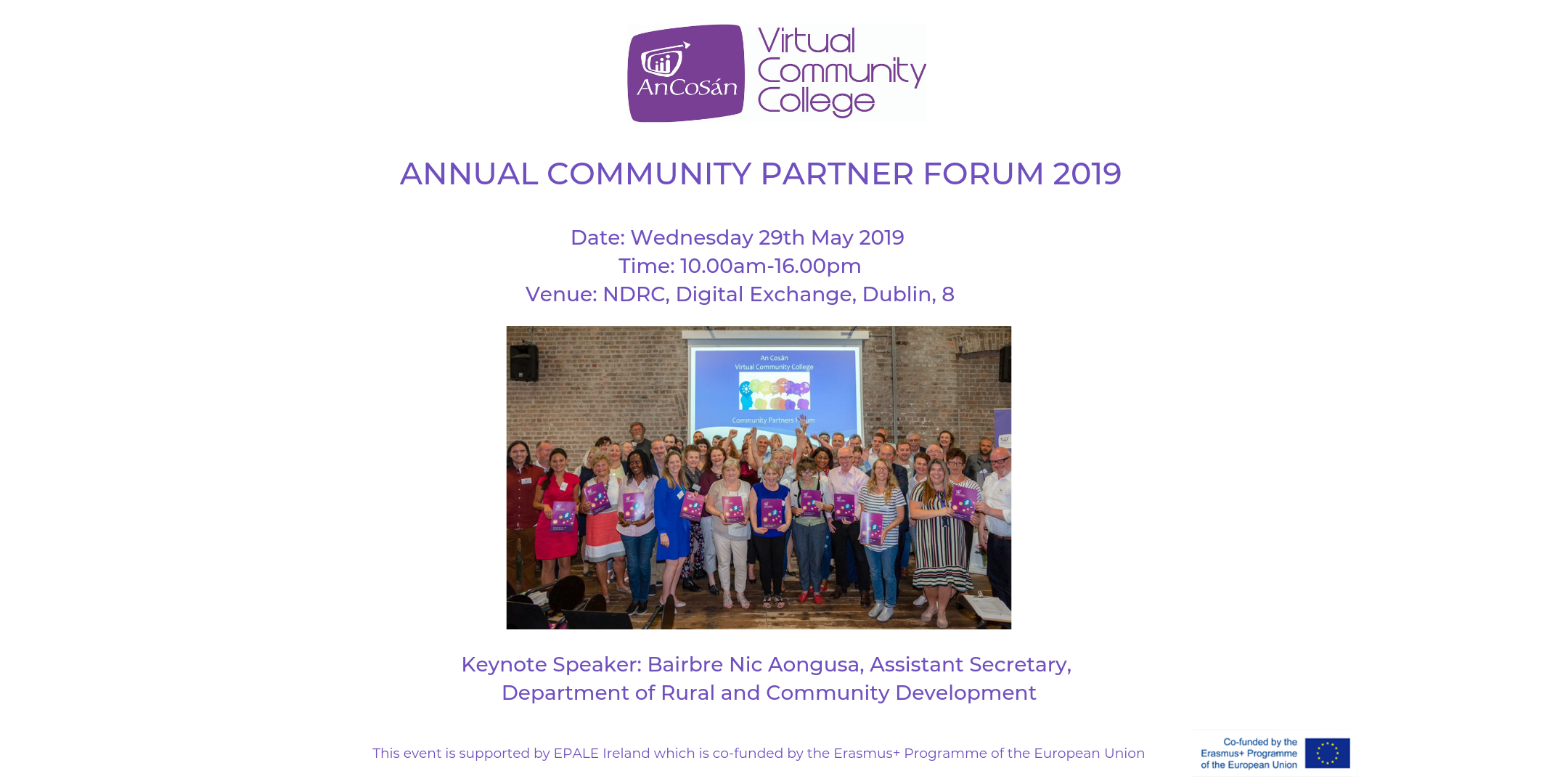 Date: Wednesday 29th May 2019
Time: 10.00am-16.00pm (10.00am Registration, Refreshments, Networking & Expo, Event starts at 11.00am sharp)
Venue: NDRC, Digital Exchange, Crane St, Dublin 8
Theme: 'Empowering Communities using Technology for Education, Leadership and Enterprise'
Keynote Speaker: We are delighted to welcome Bairbre Nic Aongusa, Assistant Secretary, Department of Rural and Community Development as keynote speaker on the day.
Why you should attend?
We invite our Community Partners to join us for a day where you will have the opportunity to:
Learn about how new and innovative ideas that embrace technology enhanced learning can empower individuals and communities

Engage in stimulating conversations

Network with your peers in Community Education
#Learn #Engage #Network #LoveLearningVCC
Overview of the Day:
Registration, Refreshments, Expo, Networking
Welcome: Maria Flanagan, Community Partner Lead, An Cosán VCC
Opening address: Liz Waters, CEO, An Cosán
Keynote Speaker: Bairbre Nic Aongusa, Assistant Secretary, Department of Rural and Community Development
Session 1 Panel Discussion: "Global, national and local: The role of technology in shaping the future of education and work"
Panel includes:
Bairbre Nic Aongusa, Assistant Secretary, Department of Rural and Community Development

Monica Donlon, Managing Director, Accenture

Colm O'Muiri, Project Manager, Southend Family Resource Centre Wexford

David Pollard, Co-founder Learning Tech Labs
Facilitated by: Liz Waters, CEO An Cosán VCC

Overview of Skills 2 Succeed Academy & Digital Stepping Stones Assessment Tool
Speaker: Mark Kelly, An Cosán VCC and Kieran Farrell, Manager | Accenture Interactive Ireland

World Cafe Workshop: Exploring Community Led Solutions
Facilitated by: Suzie Cahn, An Cosán VCC
Lunch, Expo and Time to Network
Speaker: Laura Austen-Gray, EPALE Coordinator for Ireland
Session 2 Panel Discussion:
"How local community leaders are embracing innovation and technology to empower individuals and communities for the future, through education, leadership and enterprise"
Panel includes:
Dr Senan Cooke, Co-founder, Dunhill Rural Enterprises Ltd

Tracy Keogh, Co-founder of Grow Remote

Máirín Ó Cuireáin, Executive Director, Robert Emmet Community Development Project (CDP)
Facilitated by: Dr Thomas Murray, Pedagogy Lead An Cosán VCC

Very special guests: The High Hopes Choir will engage, empower and entertain us.
Closing address
Who is attending?
To date we have representatives from the following organisations attending:
Accenture, Ace Enterprise Park, Anew Support Services, AONTAS, Ballyfermot Chapelizod Partnership, C.M.S. Learning Centre, Camara Education Ireland, Chapelizod Social Enterprise, Common Purpose, Create, EPALE Ireland, FIT, GAA, Glencree Centre for Peace and Reconciliation, Higher Education Authority, IACTO, Irish Social Enterprise Network, Limerick Clare ETB, Leargas, Liberties Training Centre, Longford Women's Link, Near Media Co-op, Northside Partnership, NWCI, One Family, Places of Sanctuary Ireland, Recovery Academy Ireland, Robert Emmet CDP, Skills change, Southend Family Resource Centre, South Dublin County Partnership, The Irish Girl Guides, The Wheel, Transformative Recovery College, TU Dublin Tallaght campus, VIEWdigital, Wexford Local Development.
RSVP: To facilitate event & catering organisation we would appreciate if you can indicate your availability to attend as soon as possible by registering above as places are limited.
Parking
There is no on-site parking for participants or visitors.
There are some free parking spots at Long's Place near Guinness and on Marrowbone Lane before 8:30 am. There are on-street parking meters on Rainsford Street and a multi-story car park beside Lidl on Thomas Street, accessed via Oliver Bond Street. A Daily NDRC Rate of €10.50 can be availed of. Simply, go to the pay desk and advise them of the NDRC daily rate to avail of the offer. Car park closes at 19:00.
Our Forum in 2018: Read about last years An Cosán VCC Community Partner Forum 2018 in this recap article of the event where almost 100 members from our network and the community education space came together to learn, engage and Network. https://lnkd.in/eh7CPKZ. Irish Tech News also wrote a piece on our event last year.
If you have any questions about the event please do not hesitate to contact Maria Flanagan, Community Partner Lead on email m.flanagan@ancosanvcc.com or on mobile 086 8223808.
Warmest regards,
Maria Flanagan
Community Partner Lead
An Cosán Virtual Community College

---

Event Partners
EPALE: This event is supported by EPALE Ireland which is co-funded by the Erasmus+ Programme of the European Union. EPALE, the ePlatform for Adult Learning in Europe, is a multilingual open membership community for adult educators. In Ireland it is managed by Léargas and co-funded by the European Commission and SOLAS. The EPALE platform hosts news, blogs, events and more for teachers, trainers, researchers, academics, policy makers and anyone else with a professional role in adult learning across Europe.

NDRC: Our Venue Partner for this event is NDRC. NDRC sources and builds digital startups to invest in and work with. NDRC has a commercial mandate from the Department of Communications Climate Action and Environment to make these investments, ensuring digital entrepreneurship is at the heart of Ireland's economic agenda. www.ndrc.ie
Date Protection - Important information about the data you provide:
The Shanty Educational Project Limited, operating under the business name An Cosán Virtual Community College ("we" or "us"), is committed to protecting and respecting your privacy. If you register for this event we will share your details with EPALE our partner organisation. We and EPALE will use the personal details you provide to help us manage the event and meet our information needs. We may also use the data to build our lists of people who may be interested in receiving information about our programmes. By registering for this event you agree to this use. We will use your information with respect and keep it secure. You can ask us to delete or amend the data you provide us at any time.For more information, see our Privacy Policy on our website.