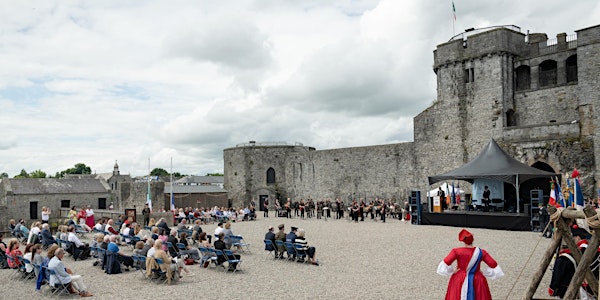 Annual Ceremony & Show at King John's Castle (including the "Symphony 32")
Location
King John's Castle
Nicholas Street
Limerick
Ireland
Our annual ceremony and show commorationg the Flight of the Wild Geese and celebrating the friendship between Ireland and France
About this event
Come and watch the parade and annual flag-raising ceremony supported by the Defence Forces commemorating the Flight of the Wild Geese and celebrating the friendship between Ireland and France. The Irish, French and European anthems will be performed for the occasion by the Boherbuoy Brass & Reed Band. The parade will include reenactors from En Garde, the Society for Franco-Irish History, and members of the following veteran associations whom we wish to thank most sincerely for their participation: The French Foreign Legion Veterans Association of Ireland, the Limerick Branch of the Irish Naval Association, the I.U.N.V.A. (Post 6), the Patrick Sarsfield Branch of the O.N.E. and the Limerick Branch of the Royal British Legion of Ireland.
Watch the LegionÉire Dance Force perform a stunning choreography and enjoy the performance by the Irish Chamber Orchestra, special guests (including Jean-Michel Veillon), and students from the Irish World Academy of Music & Dance, of "Symphony 32 / Siansach 32", an original piece of music written by French composer Erick Falc'her-Poyroux in honour of the centenary of Ireland's partial independence and conducted by Franco-Irish maestro Robert Houlihan. This exceptional event is part of Limerick's Decade of Centenaries programme and the University of Limerick's UL50 series of events and is organised in partnership with the French Embassy in Ireland and the Irish World Academy of Music & Dance, with the support of the University of Limerick, GIS E.I.R.E., the French Society for Irish Studies (SOFEIR) and Fondation Nantes Université.
Click here to access the page from which to download the full programme of the event.
Please note that parking is very limited around the castle. We advise you to park in town and walk to the castle.