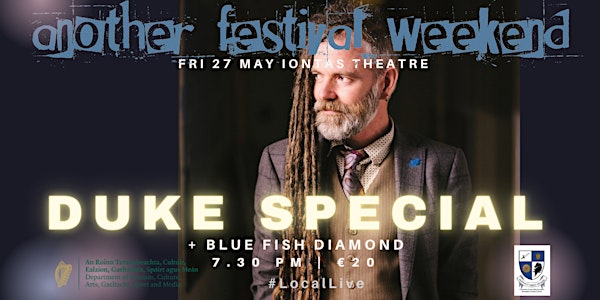 Another Weekend Festival | Ìontas Theatre
DUKE SPECIAL + BLUE FISH DIAMOND Fri 27th May 7:30 pm (Doors open 7pm) €20 (+eventbright booking fee) Venue Ìontas Theatre. Seated.
When and where
Location
Íontas Arts, Theatre & Community Centre Ìontas Theatre Castleblayney Ireland
About this event
DUKE SPECIAL
+
BLUE FISH DIAMOND
Fri 27th May
7:30 pm (Doors open @7pm)
€20 (+event bright booking fee)
Venue Ìontas Theatre (Seated event)
TICKETS ON SALE NOW!
DUKE SPECIAL By nature, Duke Special (aka Belfast's Peter Wilson) is a curious person. He is curious about music, theatre, books, poetry, art, love, life, redemption, death and 78RPM records. All of this is evidenced by the variety of musical adventures throughout his career. He has released 14 albums and EPs, toured all over the world and has been involved in a diverse array of other projects, including writing the music for Deborah Warner's critically acclaimed 2009 production of Mother Courage and Her Children at London's National Theatre and being commissioned by the Metropolitan Museum of Art in New York to write a series of original songs based on photographs for their exhibition of the photographers Stieglitz, Steichen and Strand.
In the world of theatre, since Mother Courage, Duke has written music for four shows with Andrew Doyle: Gulliver's Travels (BYMT, 2015), Paperboy, (BYMT, 2017), Huckleberry Finn (Lyric Theatre, Belfast, 2018), and Breadboy (BYMT 2022) and with Bob Kelly: Breakfast on Pluto (Landmark Productions and Galway International Arts Festival, in development).
Performing live is still one of Duke Special's main passions, and over the years he has played to captive audiences across the world. Whether he performs solo, as a duo with his long-time friend and percussionist Chip Bailey, with a full band, a string quartet or full orchestra, a Duke Special show is always a unique experience.
+
BLUE FISH DIAMOND is an Irish indie-folk band that has been described by Hot Press magazine as "a bit of a super-group for those in the know in the capital". They recently released their second album 'Frozen Stars on the Night', which evokes the sound of some of their main influences including Tom Petty, R.E.M., The Beatles and Paul Simon.
The new album comes three years after their debut album release. In October 2018, they released 'From Dark to Light', which Hot Press described as "essential listening for those who like their music powerful and heartfelt".
Their music has been played on radio stations across Ireland including RTE Radio 1 and has also caught the attention of radio presenters in various European countries, the United States and Australia. One of their songs ('Salvation Call') was included on a global retail playlist throughout 2019 and for part of 2020.
Have played at many Dublin music venues including Whelans, The Workman's Club and The Grand Social and at venues in Kilkenny, Wicklow, Cork and Cavan. In 2018, Blue Fish Diamondplayed at Electric Picnic and they have also played at music festivals in Dublin and Cork. On Sale Now!
Another Festival Weekend
Friday 27th May - Sat 28th May
is funded by
Department of Tourism, Culture, Arts, Gaeltacht, Sport and Media,
& Monaghan County Council
#LocalLive
DUKE SPECIAL
+
BLUE FISH DIAMOND
Fri 27th May
7:30 pm (Doors open @7pm)
€20
Indoor Gig ~ Allocated Seating ~ 2 gigs
BOOK NOW!