AoEC Ireland / Northern Ireland Virtual Open Event - Introduction to Coaching & Becoming a professional Executive Coach.
About this event
Have you thought about training to be a coach, but found it hard to know where to turn?
It's understandable. You're about to shell out a lot of money (well, you will be if it's a credible coaching course!) and you want to know the company is reputable.
You would like to get the chance to ask questions; to meet the people who will be training you; and perhaps to speak to someone who has already been on the programme themselves.
Well, now is your chance!
We are hosting our first AoEC Ireland/N. Ireland open event on Thursday, 16th June!
This free, interactive workshop event offers a taster into the world of executive coaching to help you with your decision-making.
The session will be 2 hours and you will get to spend that time with the programme trainers – Trudy Arthurs and Louise Nicholson – as well as speak to some past participants of the programme. Putting a face to a name can help make an important connection that could make your decision that much easier.
The event will include a discussion around what coaching is/isn't, a live coaching demonstration with an attendee, information on our programmes and the opportunity to hear from and chat with a recent graduate of our Practitioner Diploma.
Did you also know that graduates of our Practitioner Diploma in Executive Coaching are eligible to apply for accreditation with the International Coach Federation, the Assocation for Coaching, and the European Mentoring and Coaching Council?
So, come along and see us on 16th June!
Please also consider forwarding this information to anyone you know who might be interested in training to become a Coach; or any organisations you know of that would like to send some team members on an executive coaching programme.
We are excited about this one and hope to see lots of new faces on 16th!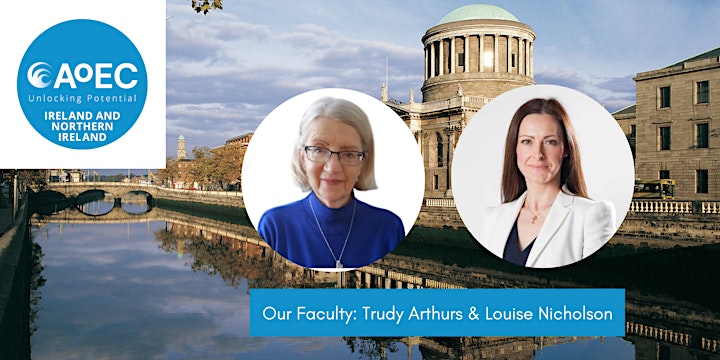 Trudy has worked in the people development arena for more than 30 years. As Assistant Faculty Member with the AoEC, she has co-delivered the Executive Practitioner Programme in London and Ireland for the past 11 years. She is an ACC Credentialled ICF coach and a founding member of the Association for Coaching in Ireland.
Prior to starting her own coaching and training business, Dancing Leopards Ltd., Trudy had a career in the banking world in London, Zurich and Frankfurt. Her range of extensive business experiences gives her a wide perspective on the challenges and needs of various levels of management, especially in the areas of self-awareness, communication and confident impact for those moving from middle to senior roles.
The primary focus of Trudy's coaching is that of helping clients to fully understand and own their strengths, boundaries and values, with the intention of building a solid foundation of confidence, clarity and self-assurance.
Once clients have established their foundational professional and personal confidence, they then go on to explore their challenges and develop solutions from a place of self-awareness and strength.
Louise is passionate about empowering individuals and teams to reach their full potential, and in using coaching to achieve this. Louise has a BA (Hons), MSc in International Business & Management, is an AoEC qualified Executive Coach, holds a Certificate in Team Coaching Fundamentals, Systemic Team Coaching & Gestalt Coaching Skills. She is also a member of the International Coaching Federation (ICF). She undertakes regular professional supervision for her coaching practice.
Louise spent several years in London working for an international management consultancy which specialised in the field of human motivation. During this time, she worked closely with the principal behavioural scientist and delivered leadership development programmes for senior executives & management teams in Europe and the Asia-Pacific region. She has coached individuals & teams from various industries (including Real Estate, Fund Management, Energy, Executive Search, Recruitment, Tech, Banking, PR & Education).
As Director of the AoEC in Ireland/NI & a member of Faculty, she is committed to sharing best practice and helping others to integrate coaching into their daily management.