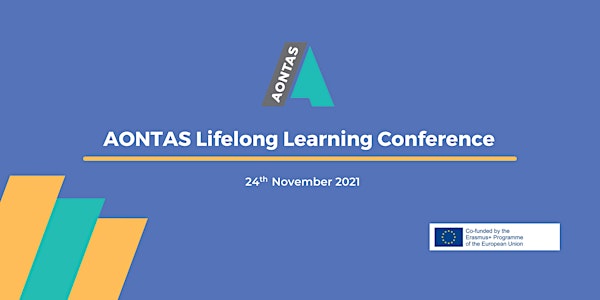 AONTAS Lifelong Learning Conference
The AONTAS Lifelong Learning Conference will take place online on the 24th of November between 9:30am -12:30pm.
About this event
The conference will focus on themes of educational equality, flexible learning and the role of adult learning in addressing and overcoming challenges from the COVID-19 pandemic.
The aim of the event
The event aims to recognise the need and value of lifelong learning as an investment in the citizens of Europe. In addition, it will seek to strengthen the profile of adult education through building awareness and understanding of the impact of diverse learning pathways; and their capacity to include and support marginalised and vulnerable adults who have previously been excluded and/or hard to reach in formal education systems.
The EAAL Project
AONTAS is the National Coordinator for the European Agenda for Adult Learning (EAAL) in Ireland since 2014. Our current project is titled Adult and Community Education: Supported Learner Pathways 2020-2021. This project aims to develop innovative and community-based methods, identify the needs of learners, and develop policy recommendations for engaging vulnerable and marginalised adults in Irish adult education. This will involve a framework of activities that collectively analyse and build an understanding of current learner pathways in Ireland, develop new models of best practice, and offer clear policy solutions to Irish and European policymakers.
The project is funded by the Erasmus+ programme and co-financed by the Department of Further and Higher Education, Research, Innovation and Science through SOLAS.
For more information about the project, please check: https://www.aontas.com/european/european-projects/european-agenda-for-adult-learning-(eaal)
Agenda (subject to change)
9.30am - Welcome and Introductions - AONTAS CEO, Niamh O'Reilly; AONTAS Chair, John D'Arcy
9.40am - The European Agenda for Adult Learning project 2020 - 2021
9.50am - Keynote Speaker - Professor Ellen Boeren, Professor in Education and Director of Research at the University of Glasgow School of Education
10.20am - Panel Discussion on Educational Equality with key representatives from diverse learner communities within the adult learning sector
11.15am - Comfort break
11.30am - Reflections on Flexible Learning - Eline Wigdel, Norwegian Directorate for Higher Education and Skills, Norway
11.30am - Reflections on Flexible Learning - Eline Wigdel, Norwegian Directorate for Higher Education and Skills, Norway
11.45am - Flexible Learning Offers in Finland - Erno Hyvönen, Project coordinator at Ministry of Education and Culture, Finland
12.05pm - Group Discussion
12.30pm - Wrap-up and close
Please get in touch with Ecem Akarca, AONTAS EU Projects Officer, at eakarca@aontas.com.