Come and join the AONTAS staff to find out more about the AONTAS STAR Awards 2022
About this event
As the nomination deadline approaches AONTAS staff will host this fun information session for those thinking of, or in the process of entering the annual STAR Awards. We will hear from judges, sponsors and past winners who will help guide you through the process and give reasons why your organisation should enter.
The STAR Awards are in their 16th year and celebrate the incredible work that adult learning providers do to meet the needs of their learners.
This year adult learning initiatives have continued to adapt and reimagine their learning provision including; new ways of recruitment and outreach, online/ hybrid learning and assessment, utilising new methods of communication technology and providing safe spaces for those learners to engage in education.
The STAR Awards recognise outstanding work in adult learning and give initiatives the opportunity to spotlight their excellent work across Ireland and bring national recognition to learners, staff and organising bodies.
So we invite you to join us with cup of tea in hand and enjoy an hour of motivation and support.
For further information please contact Barry Dolan, AONTAS Communications and Membership Officer at: bdolan@aontas.com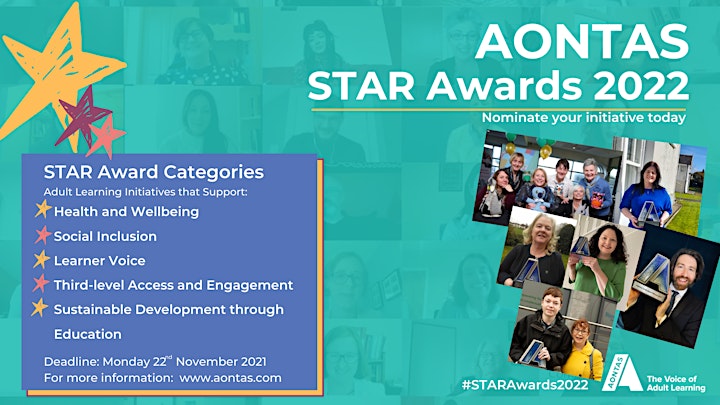 Organiser of AONTAS STAR Awards 2022 - Information Webinar
AONTAS is Ireland's National Adult Learning Organisation for adult and community education providers and adult learners. It promotes the value and benefits of adult learning, and advocates on behalf of the adult and community education sector. Founded in 1969, it is an independent NGO, with 400 members nationwide. In addition to promoting adult learning in Ireland, AONTAS is the national coordinating body for the European Agenda for Adult Learning, which is aimed at increasing participation in lifelong learning across the EU, enhancing policies and supports for adult learners, and gathering and disseminating best practices.