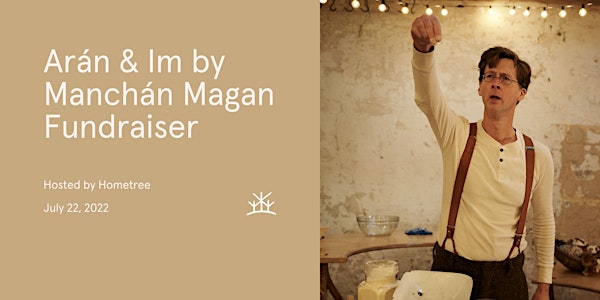 Arán & Im by Manchán Magan Hometree Fundraiser Event
Arán & Im celebrates the Irish language in an engaging, accessible bilingual way, through sourdough bread and home-churned butter.
When and where
Location
Hometree Charity Deerpark Ennistimon Ireland
About this event
Join Hometree for an evening of baking, butter churning and fun, as Manchán Magan performs his show Arán agus Im, Friday, July 22, 7.30 p.m., Hometree HQ, Ennistimon.
Come join us to churn some butter and eat freshly baked bread while celebrating and supporting Hometree's rewilding and education efforts. Hometree Charity helps communities across Ireland to better understand the critical importance of afforestation and native woodland conservation. Learn more: www.hometree.ie
Arán & Im is a theatrical performance in which Manchán Magan bakes sourdough bread for 70 minutes while offering insights into the wonders of the Irish language – exploring potent words of landscape, terms of intuition and insight, and the many phrases that bring to life the mysterious glory of our natural world. The show is a celebration of language, land and local Irish food, with freshly-baked traditional sourdough bread for the audience to slice and spread with butter they churn themselves from Irish cream. (Knowledge of Irish is not required.)
Arán & Im had a nationwide tour with the Abbey Theatre in 2018. In Autumn 2019 it toured widely again. In Spring 2022 it toured 16 cities, 13 states and 2 provinces in USA and Canada. It will tour the west coast of North America in 2023.
Written & presented by Manchán Magan. Set by Tom de Paor. Originally produced by the Abbey Theatre. Production assistance from Once Off Productions.
Is taibhiú drámaíochta é Arán & Im ina bhácálann Manchán arán taos géar ar feadh uair a chloig fad is a thugann sé léargas ar iontaisí na Gaeilge; ag ceiliúradh focail mealltacha a bhaineann le tír-dhreach, iomas agus léirstean, chomh maith le abairtí a thugann beocht de chumhacht agus mistéir an saoil nádúrtha. Is ceiliúradh é ar theanga, tír agus bia áitiúil Éireannaigh, le arán traidisiúnta taos géar atá úr-bhácáilte, agus ar féidir leis an lucht féachana im a chur air atá maistrithe acu féin.