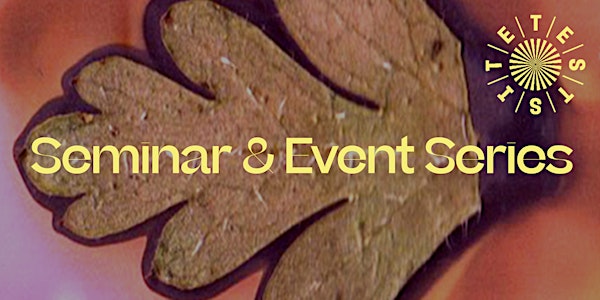 Architectural Heritage Film Screening at TEST SITE
Premiere of Mná and Sons by Aoife Desmond with a programme of films co-curated with aemi.
When and where
Location
TEST SITE, Kyrls Street (Opposite Bridewell) Kyrl's Street Cork Ireland
Refund Policy
Contact the organiser to request a refund.
About this event
The films in this programme respond to the multiple heritages of a place. Screening here for the first time, Aoife Desmond's new film Mná and Sons explores overlapping layers of place through an examination of built residue, feral landscapes and embodied reanimation of site through ritualised performance. This approach is echoed in different ways throughout the programme in works by Charlotte Pryce, Rosalind Fowler and Onyeka Igwe. Ranging from minute observation of a forest understory, constructed participatory rituals for an urban community and decolonisation through a re-editing of the ethnographic gaze, human heritages collide with non-human and architectural infrastructures. This film screening accompanies the architectural heritage seminar at TEST SITE and is curated by Aoife Desmond in collaboration with aemi.
Programme:
Charlotte Pryce, Discoveries on the Forest Floor, 2006, colour, silent, 4 minutes
Three Miniature, Illuminated, Heliographic studies of plants, observed and imagined. The individual titles of the films are: Burnt Umber/ pale ochre/ Burnt Umber, The Talk of Lichen on a Lonely Day, Those Whose Attachment to the Earth is but Tentative
Rosalind Fowler & Fourthland, Breadrock, I feel like doing this, 2018, black & white, sound, 17 minutes
The work is a visceral homage to cultural history, memory and universal myth. Melding experimental and ethnographic filmmaking, the 16mm work presents a series of staged vignettes drawing on the rituals and artefacts of the Estate's diverse communities, to create new kinships, myths and culture.
Onyeka Igwe, Specialised Technique, 2018, black & white, sound, 7 minutes
William Sellers and the Colonial Film Unit developed a framework for colonial cinema, slow edits and minimal camera movement, no camera tricks. In an effort to recuperate black dance from this colonial project, Specialised Technique, attempts to transform this material from studied spectacle to livingness.
Aoife Desmond, Mná and Sons, 2021, colour, sound, approx 80 minutes
This new site-specific film directed by Aoife Desmond combines a critical essay response with inserted performative actions. The film is structured around seasonal changes, documenting evolving plant, bird and insect life, development of built works in progress and transformation of the site from a state of vacancy to temporary inhabitation. These contrasted visual elements are framed with layers of field recordings, vocal loops, acoustic interventions and where appropriate voiceover. Aoife Desmond has filmed in 16mm, with additional performance cinematography by Narayan Van Maale, Denise Woods and Andrew O'Reilly with sound design by Fiona Sheils. This layered approach is used to create a film work which captures abstract and reflective aspects of the urban research project TEST SITE.
This is a seated, outdoor, socially-distanced event, with limited capacity. Maximum 6 tickets per purchase/per seating pod. If you wish to sit in a pod please book under the same name.
This event is open to people of all ages provided children are accompanied by an adult.
This is an alcohol and drug free event.
If you have specific access requirements and would like to attend please get in touch before the event.
Please note that photographs and film footage will be taken during the event, please advise if you do not wish to be included in any photography.
Please bring protective face coverings, we advise audience members to wear a mask until seated.
The event takes place outdoors. We advise ticket-holders to wear appropriate clothing for the outdoors.
As Kyrl's Quay is an industrial site of significance we have retained as much of the original surfaces as possible. We advise visitors to walk respectfully through the site. We have also maintained the natural features of the site and ask that you respect this when you visit.
Tickets can only be refunded in the event of a show being cancelled or a change of date and time.
Please note we require a mobile phone number for booking which we will use for contact tracing.
For any queries please email: hello@testsitekyrlsquay.ie