Stephen Brandes and Sarah Kelleher in conversation at Uillinn: West Cork Arts Centre
About this event
To mark the opening of the exhibition La Place des Grands Abysses at Uillinn: West Cork Arts Centre, art historian Sarah Kelleher and artist Stephen Brandes will informally discuss the exhibition alongside topics such as - using history as material for collage, why art might be a safe place for creating conflicts, and the charged space that exists between tragedy and comedy.
This live event will take place in the gallery.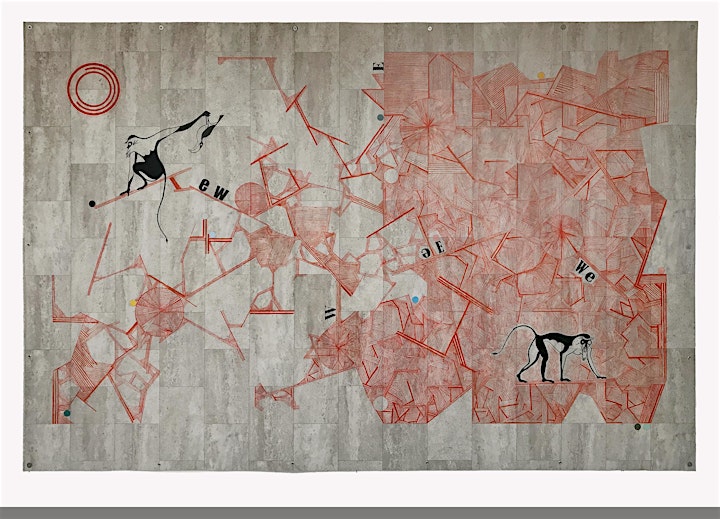 Stephen Brandes' practice explores both word and visual language as vehicles for storytelling, with particular reference to travel fiction and European traditions of absurdism and satire.
For several years he embarked on a series of very large, highly detailed drawings on floor vinyl, which charted a perpetually expanding fictional universe – the genesis of which was a journey through contemporary Eastern and central Europe, following a route his grandmother had made in 1913, escaping pogroms in Romania.
More recently, he commenced a body of work which not only includes drawing and painting, but monumental posters, signage, collage, printed publications and animated slideshows.
Sarah Kelleher is an arts writer and a Government of Ireland Scholar completing her PhD on contemporary Irish sculpture in History of Art at UCC. Sarah is an experienced programmer and administrator, having worked as part of the programming team of the National Sculpture Factory and managed the Vangard Gallery, Cork.
Sarah has published widely, writing scholarly texts on Gerda Frömmel for the catalogue to Gerda Frömel, A Retrospective for the Irish Museum of Modern Art, contributing to Photography and Doubt (Routledge, 2016) and writing reviews for Paper Visual Art Journal, Enclave Review, and The VAI Visual Artists News Sheet.
Sarah also has an independent curatorial practice and has co-curated the exhibitions Affective Entities in collaboration with MAKE 2016, and This is not my voice speaking (2015) at the Wandesford Quay Gallery.
Organiser of Art as Time-Travel with an Untrustworthy Tour-Guide
Uillinn: West Cork Arts Centre is a hub of arts activity right in the heart of Skibbereen. Its two main galleries house contemporary art exhibitions that intrigue and inspire, presenting artwork by local, national and international artists and a programme of guided tours, gallery talks and free gallery resources such as the Discovery Box for families and Children's Activity Sheets.
The three Artists' Studios provide space for Irish and international artists to work on site and to meet the public and the Dance Residency brings top-class contemporary dancers, choreographers, performers and musicians to Uillinn to develop new work and present it to the public throughout the year.
The vibrant and diverse education programme enriches the visitor experience through workshops, masterclasses, dance and discussion platforms and encourages equality of access for people of all ages and cultures through its long-term programmes and projects.
Many of the programmes and events are free of charge.
Perfect for rainy day activities, or to relax and enjoy a delicious coffee and cake in the sunny, sheltered courtyard courtesy of The Coffee Shop at Uillinn, West Cork Arts Centre has something for everyone.
With an average of 20 programmes and events every week, keep up to date on all that Uillinn has to offer by following on facebook and twitter and check out
www.westcorkartscentre.com