About this Event
Artist–Folklorist: Simon Coleman's Work for the Irish Folklore Commission in 1949 and 1959 – Presented by Professor Patricia Lysaght
Saturday 19 October at 11am
Free, booking required on Eventbrite
This lecture focuses on the artist Simon Coleman. (1916 – 1995) he was born near Drogheda in the village of Duleek, County Meath, the son of the local postman. The Drogheda Municipal Art Collection holds two of his works, A Man of the West and Self Portrait, both presented by the artist to Bea Orpen, Terry Trench and the Museum and Gallery Committee.
Coleman trained at the Dublin Metropolitan School becoming a pupil of Seán Keating. In his early career, he was awarded several prestigious commissions, including one for Áras an Uachtaráin, and which depicted the first meeting of President Douglas Hyde's Council of State. Coleman also exhibited locally during the 1940s and 1950s at the Drogheda Library. He was elected to the RHA, worked as a folklore collector with the Folklore Commission and also taught art.
Coleman occasionally referred to himself as 'artist-folklorist' when referring to his work for the Irish Folklore Commission, and this is the focus of Patricia's lecture.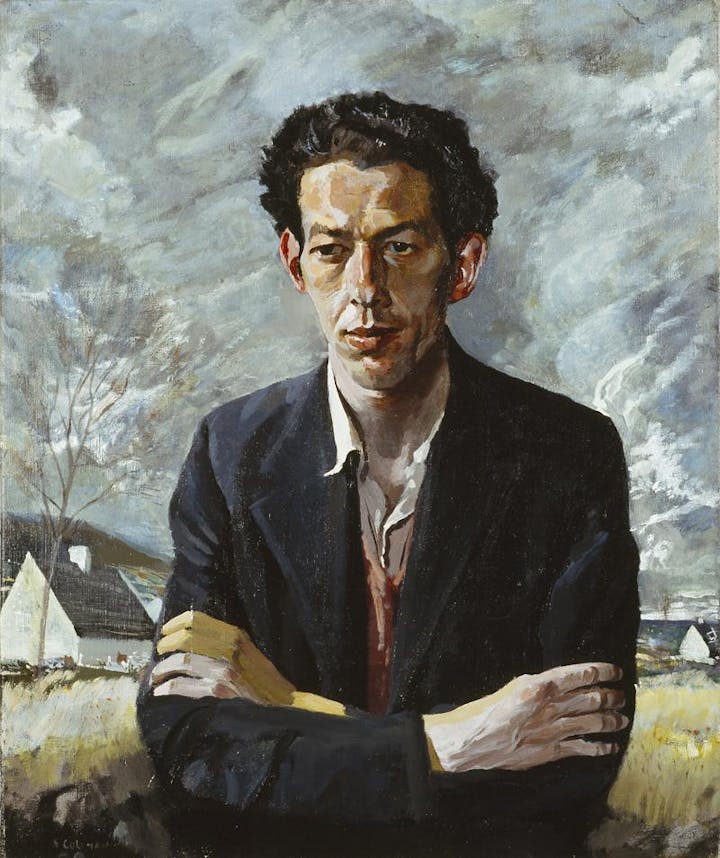 Professor Patricia Lysaght
Patricia Lysaght, a native of west Clare, is Professor emerita of European Ethnology and Folklore, University College Dublin. She is also a qualified lawyer, an elected member of the Royal Gustavus Adolphus Academy, Uppsala, Sweden, and of the Royal Irish Academy, Dublin.
She has received a number of academic awards and prizes for outstanding contribution to international scholarship. She is a former editor of Béaloideas, the Journal of the Folklore of Ireland Society, and of Folklore, the journal of The Folklore Society, UK. She is currently President of The Folklore Society, London.
Professor Lysaght has published 20 books as author or contributing editor as well as numerous scholarly articles. Her book publications include The Banshee (1986; 2nd edition 1996), A Pocket Book of the Banshee (1998), and Welsh Óg. A Clare Storyteller (2018).
She has written extensively on folklore collecting by the Irish Folklore Commission (Coimisiún Béaloideasa Éireann) throughout Ireland, and continues by her work to cast light on the collectors, storytellers and their stories, and on their warm generosity and cultural patriotism in the evolving Ireland of twentieth century.