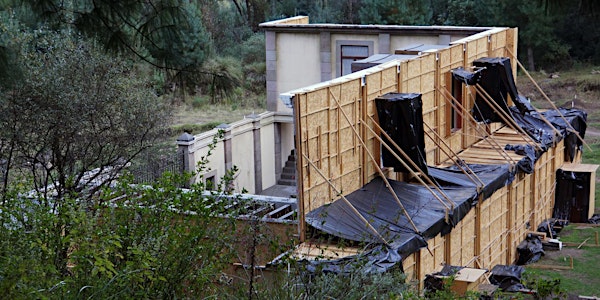 Artist Talk: Jaki Irvine - Behind the Scenes
When and where
Location
Temple Bar Gallery + Studios 5-9 Temple Bar Dublin Ireland
Description
Temple Bar Gallery + Studios is delighted to present artist Jaki Irvine who will show and talk about the works she has created during the course of her time working from a studio at TBG+S. This will include excerpts from her film Se Compra: Sin E (2014); Shot in Mexico: on the impossibility of imagining numbers of dead and disappeared (a photo-wall work for Deutsche Bank, Dublin, 2015); If the Ground Should Open' – commissioned by the Irish Museum of Modern Art, (2016) and more.
Using video installation, photography, music composition and writing, she explores the complex ways we imagine ourselves and the world around us, a process which, for Irvine, has both philosophical and political implications.
Jaki Irvine lives and works in Dublin and Mexico City. Over two decades, she has built a substantial and highly acclaimed body of film and video art that is profoundly concerned with the limits of human knowledge and experience. Irvine's engrossing, elliptical narratives are at times composed of fragments of everyday life - mundane incidents that, viewed via Irvine's singular, assiduously selective gaze, become occasions of heightened strangeness.
In 1995 Irvine's work was included in General Release, the seminal exhibition of Young British Artists at the Venice Biennale and she represented Ireland at the Venice Biennale in 1997. She participated in numerous group shows including NoWhere Louisiana Museum of Modern Art, Denmark (1996), White Noise, Bern Kunsthalle, (1998), Intelligence, Tate Britain (2000) and Shifting Ground: 50 Years of Irish Art at the Irish Museum of Modern Art (IMMA) (2000); Revolver II, Matt's Gallery, London (2014); A Room of One's Own, Laboratorio Arte Alameda, Mexico City (2015). Her solo exhibitions have included the Project Arts Centre (1996), Kerlin Gallery (2004, 2011) and the Douglas Hyde Gallery, Dublin (1999, 2005); Frith Street Gallery, London (1997, 1999, 2011) the Staatliche Kunsthalle in Baden-Baden, Germany (1998) Delfina Project Space London; Henry Moore Institute (2004) Leeds and Galleria Alessandro de March (2004),Milan. In 2005 she showed The Silver Bridge in IMMA, Dublin and Smart Project Space, Amsterdam. In 2008, her multi-hannel installation, In a World Like This, was produced in collaboration with Chisenhale Gallery, London and The Model Arts and Niland Gallery, Sligo. To mark the exhibition, The Square Root of Minus 1 is Plus or Minus i , was published in early 2008. Her project, City of Women, (2010), developed with Draoícht and The Lab, Foley Street, brought together women of many different backgrounds and ages, to perform for one night on Foley Street, re-enacting gestures from Hogarth's, The Harlot's Progress. In 2011 Before The Page is Turned, developed in the Dublin Graphic Print Studios, was presented at the Kerlin Gallery, Dublin. In 2014 her solo show, This Thing Echoes, was presented at Frith Street Gallery, London.

Jaki Irvine has written many critical texts and short writings on other artists work in the past, including Extinction Beckons, for Mike Nelson, a book commissioned by Matts Gallery. In 2013 she wrote Days of Surrender, her first novel, published by Copy Press, UK.

She is a member of Aosdana and an artist advisor at the Rijksakademie Amsterdam.
She is represented by Frith Street Gallery, London and Kerlin Gallery, Dublin.