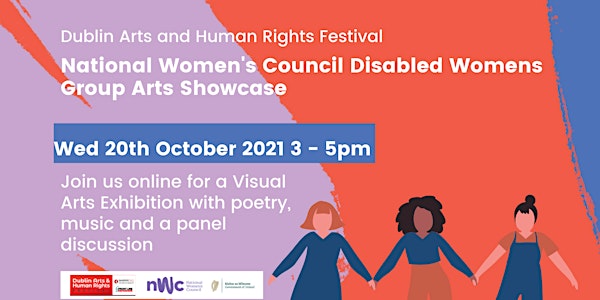 Arts and Advocacy with disabled women
Join NWC's Disabled Womens Group for a showcase of disabled women's stories and images as part of the Dublin Arts and Human Rights Festival.
About this event
A small planning group has come together to organize this event as partners in the Dublin Arts and Human Rights Festival 2021
Orla O Connor(Director, NWC) and Evie Nevin(NWC Disabled women's group & political campaigner) will welcome and open the event.
Grainne Blair and Aoife Price will present a creative advocacy piece from the disabled women's group.
Hosted by Blessing Dada an award-winning mental health writer, speaker & content creator/blogger, this event will feature performances from
Mary Collins(Painter , writer and campaigner for independent living)
Rosaleen McDonagh(Playwright, performer and columnist )
Emilie Conway(Vocal Jazz Artist and founder of DADA: Disabled Artists and Disabled Academics Campaign for Human & Cultural Rights )
Penny Pepper(author, poet, performer & disabled activist)
We have an excellent panel hosted by Róisín Ní Haicéid who will share their own experience of campaigning for equality and human rights for disabled women including Emilie Conway, Isolde O'Brolcháin Carmody and Lydia Gratis.
ISL interpreters will be available at the event.
Information about the festival
Dublin Arts and Human Rights Festival: The theme of this year's festival is 'Voices of Hope, Courage and Resilience: The Story Continues.' The festival runs from the 15 – 24th October.
Smashing Times and Front-Line Defenders in partnership with Amnesty International, Fighting Words, Irish Council for Civil Liberties, National Women's Council of Ireland, Trócaire, and Poetry Ireland will implement the 2021 Dublin Arts and Human Rights Festival to showcase and highlight the extraordinary work of human rights defenders in Ireland and around the world, past and present, and the role of the arts and artists in promoting human rights today.
https://smashingtimes.ie/festivals/dublin-arts-and-human-rights-festival-2021/
Sign up to the Festival Mailing List to receive updates on festival partners, events and more!
NWC have been working with a group of disabled women online since March 2020. This has been critical to strengthen and inform the policy and advocacy work of our organisation and also to make visible the issues and experiences of disabled women in wider policy and strategic development. In doing so, it is of particular importance that this work is led by disabled women and that their voices and participation are championed, made visible and supported.