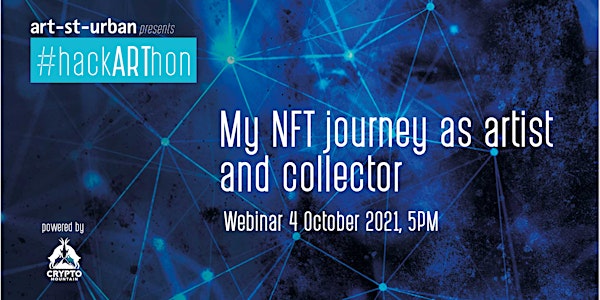 ArtTalk: My NFT Journey as Artist and Collector
Interactive Online Workshop about minting, distributing and marketing of NFT. Speaker: Jürg Kobel, artist and collector.
About this event
This online webinar is part of the hackARThon.
What can you expect in this interactive NFT online workshop?
We will have a look into different NFT platforms and compare and discuss the different features and concepts.
We elaborate on the opportunities and risks associated of making money with NFT sales and the importance of a sound marketing strategy.
We will see a live example using two different minting platforms and discuss pros and cons.
We also have a look into the hackARThon platform and learn how to setup a project and a project team.
Jürg Kobel
Jürg Kobel is artist and collector of gifs and runs an own blog about NFT market places. Link: https://www.nft-kunst.ch/blog
HackARThon NFT POWER WEEK - Register for the other events
MONDAY, 4 October, 5pm: ArtTalk: My NFT Journey as Artist and Collector
TUESDAY, 5 October, 5pm: NFTs in Virtual Reality - Meet VR-All-Art & SolSea
WEDNESDAY, 6 October, 5pm: Check-in Webinar Persistence
WEDNESDAY, 6 October, 6pm: Check-in Webinar Solana
THURSDAY, 7 October, 5pm: ArtTalk: Is Tech ready for NFT?
FRIDAY, 8 October, 11am: How to win a hackathon - check-in for a POWER HackARThon Weekend
Join now our hackarthon and learn more about new opportunities for you as artist and collector to embark into the METAVERSE. Mingle with like-minded people, mentors and coders using our HackARThon Discord channel and enjoy a diverse program of online webinars and sessions.
This initiative is presented by art-st-urban and organized by CrypoMountain.
Art-st-urban
art-st-urban, located at the monastery of St.Urban, Switzerland, is an unique art & cultural platform for art exhibitions, art education, art & music festivals, and art funding, run by Gertrud & Heinz Aeschlimann, founder of the "Young Artist in Residence Programs " (artists and musicians), an art incubator for global art talents. To learn more please visit: https://art-st-urban.com