Sales Have Ended
Ticket sales have ended
Thanks for registering - keep up to date with latest speaker and exhibitor information at www.arvrinnovate.com
Sales Have Ended
Ticket sales have ended
Thanks for registering - keep up to date with latest speaker and exhibitor information at www.arvrinnovate.com
Description
Join us in Dublin, Ireland on May 10 for the 5th International ARVR Innovate Conference and Expo - where AR and VR Get Down to Business. Tickets are on sale at €195 plus VAT plus we have a special academic rate of just €95 plus VAT.
We have a fantastic line-up of global experts in AR and VR coming to Dublin...
Head of Global AR and VR - Audi - Jan Pfleuger
COO - WikiTude, - Peter Nagele
COO of youAR - Dave Lorenzini - Dave's Keyhole company was acquired by Google
Founder of War Ducks - Nikki Lannen
Co-founder of vStream - Andrew Jenkinson
Head of AR Lab - Alibaba Group - Jian Gu

Plus a dedicated stARtup demozone and pitch competition. And a fantastic line up of over 30 exhibitors.
Registration Opens: 8.00am - enter at The Concert Hall Door, by Merrion Road
Expo Opens: 8.15am
Conference Starts: 9.00am
Join the online conversation using #ARVRInnovate
Click HERE for the lastest speaker line-up.
Speakers at ARVR Innovate will address a number of key market sectors providing early adoption case studies relevant to many industry sectors including:
Industrial / Engineering
Tourism and Events
Construction/Real Estate
Gaming and Entertainment
Main Stage
Our main stage features talks and panels from some of the top minds and influencers in AR and VR today.
Startup and Business Stages
New for 2018 there will be a stARtup Pitch competition running throughout the day with the winner announced on Main Stage at the end of the conference. And we will have up to twenty start-up companies in a dedicated zone.
During the day we will also have presentations from leading investors in the AR and VR eco-system, including VC Funds, Private Investors, Accelerators, Government Agencies.
Expo
Our expo hall featured booths showcasing AR and VR applications in verticals such as Engineering, Software, Marketing, Training, Architecture and Medical.
Some of our recent attendees....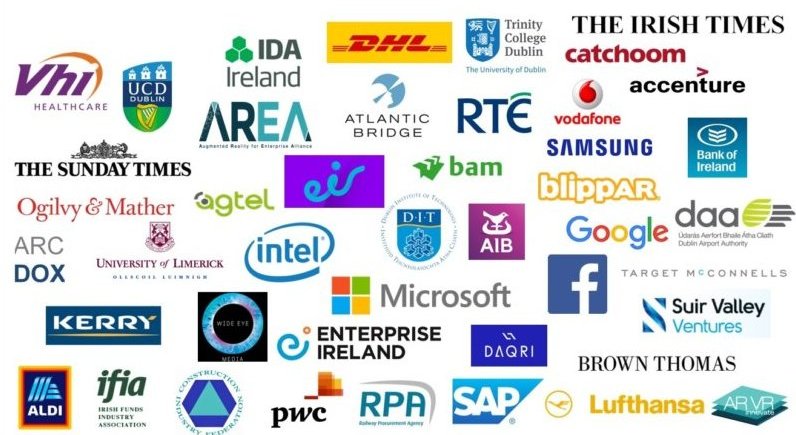 About ARVR Innovate
ARVR Innovate is Ireland's only conference dedicated to augmented reality (AR) and virtual reality (VR). ARVR Innovate was one of the first events of its type to be organised in Europe. This has helped it establish a strong reputation both in Ireland and internationally. This has seen it named as one of the top AR and VR events in the world.
Since its founding in 2014, the aim of the conference has been to promote the capabilities and use of AR and VR, by spreading awareness of these developing technologies and encouraging the growth of the sector. ARVR Innovate provides a platform for practitioners to showcase their work and to come together with others interested in this growing industry. It has also been heralded for helping bring attention to the Irish AR and VR sectors.
ARVR Innovate has a proven track record in attracting speakers of the highest calibre. Past speakers have included Don Levy of Smith Brook Farm, Google Earth's Dave Lorenzini, Ryan Mensches of Microsoft, global mobile phone expert Tomi Ahonen, Barry Downes of Suir Valley Ventures, Brian Mullins and Gaia Dempsey from DAQRI and SAP's Manuel Saez.
MODIFICATION OF THE PROGRAMME
The conference organisers reserve the right to modify the programme. No refunds can be granted in case of cancellation of speakers, lack of space in the conference room or any other incidents during the conference which are beyond the control of the conference organisers. Please check the main website www.arvrinnovate.com where the most current information is available.
Photographs & Video Streaming
The organiser may without the further consent of the participants use and release pictures and videos taken during the congress for reports of the congress and/or in future marketing materials. By registering to this event attendees agree that photographs or sound or video recordings taken during the event that could include recognizable images or voices of those in attendance may be posted on the ARVR Innovate website. All recordings are treated sensitively and discreetly. Names will not be published. The event is held in a public space, therefore we do not prohibit participants, exhibitors, sponsors, or news organisations from photographing, video or audio-taping some event activities. The organiser reserves the right to use images taken at the congress with your photograph and/or likeness on social media and/or in future marketing materials. The organiser is NOT responsible for individual attendee's use of your image or likeness.
Booking this conference constitutes agreement to the above terms.