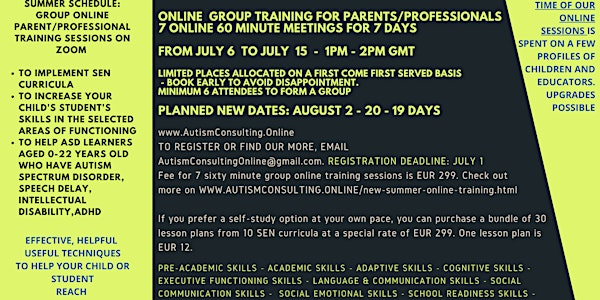 ASD Parent/Professional GROUP ONLINE Training July 6-15 - 7 group meetings
7 online group sessions for parents/professionals to improve skills in learners with ASD & related conditions who are 0-22 years old.
About this event
Summer Schedule - Online Group Parent / Professional Training
NOTE: 1-1 individualised online training available on the same days. Self-study option also available with upgrades possible. Check out on www.autismconsulting.online - NEW summer online training.
When: July 6 - July 15 (no training on July 11) - Wednesday, Thursday, Friday, Tuesday, Wednesday, Thursday, Friday - 7 sixty minute online meetings for 7 days.
Mark your calendars at 1pm - 2pm GMT on July 6, 7, 8, 12,13,14,15
Time & Mode: Seven 60 - minute online group sessions via zoom at 1pm - 2pm
The minimum number of participants for the group training to take place: 6
Aim: to Improve Learner's skills in selected areas from the following list: pre-academic skills, school readiness, social-emotional learning, study skills, social communication, peer interaction, group participation, community, social and employment, daily living skills, motor skills, play & leisure skills, expressive language, receptive language, inclusion skills, transition skills. Please see the content of each lesson and curricula here
Aim: to Implement SEN curriculum/a at home / in the classroom / in the clinic with the use of selected evidence-based practices
Target Group: Learners with Autism Spectrum Disorder, Intellectual Disability, ADHD, Speech Delay
Age Group: from Birth to 22 Years of Age
Included: online group consultation with training on how to implement activities with SEN learners, lesson plan/s with recommended materials to be used with learners and homework assignments will be emailed after your online training session. As this is group training, the general feedback will be provided based on selected videotaped assignments conducted by group participants with their learners. For individual feedback on your work with your child/student, please schedule a separate 1-1 online consultation
Cost: Seven 60 - minute group online training sessions per schedule: EUR 299
How the Process Works:
1 - Register in the group online training,
2 - Make a payment,
3 - Email us back your Intake Form,
4 - Attend group online training at the scheduled times and receive lesson plans with instructions,
5 - For personalized feedback on your daily assignments with your child/student you must schedule a separate 1-1 online consultation as only general feedback from group work will be provided during group training sessions
Payment: Payment due by July 1 via bank transfer. Banking Details: IE 83 AIBK 93251584178039 Reference: Your name and surname.
​Limited spaces, times of sessions allocated on a first come first served basis. Book early to avoid disappointment.
Kind Regards
Gabriela Hennigan
Education & Behaviour Consultant & Autism Mom
Special Education Teacher registered with The Teaching Council or Ireland
Reg.No 168807
AutismConsultingOnline@gmail.com
www.AutismConsulting.Online
Ph: +353.87.185.2620