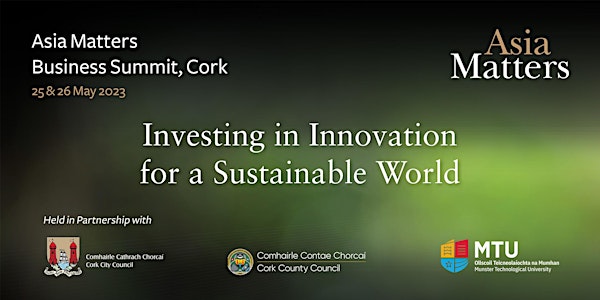 Asia Matters Summit Cork - Investing in Innovation for a Sustainable World
Join in Person - Hear from leading Diplomatic, Business and Industry Speakers on Investing in Innovation now for a Sustainable World
Date and time
Fri, 26 May 2023 08:30 - 13:00 IST
Location
Munster Technological University Rossa Avenue T12 P928 Cork Ireland
About this event
Held in Partnership with Cork City Council, Cork County Council and Munster Technological University
Day 2: Friday 26 May Venue: Munster Technological University
08.30 Registration and Networking
09.00 Welcome Remarks and Opening Address by Professor Maggie Cusack, President, Munster Technological University on The Upskilling Role of Universities in the UN 17 SDGs with response by Professor Patrick Paul Walsh Vice President of Education, UN Sustainable Development Solutions Network.
09.30 Diplomatic Panel: Driving Global Transformation to a Climate Resilient World chaired by Martin Murray, Executive Director, Asia Matters with H.E. He Xiangdong, Ambassador of China, H.E. Dr. Desra Percaya, Ambassador of Indonesia - Indonesia is Chair of ASEAN in 2023, H.E. Aisha Farooqui, Ambassador of Pakistan & H.E. Mohammed Alshamsi, Ambassador of United Arab Emirates
The UN Biodiversity Conference (COP 15) held December 2022 in Montreal, Canada was deemed highly successful with a landmark agreement to conserve at least 30 percent of land, freshwater and ocean globally by 2030, and restore 30 percent of degraded land. China, as Chair committed to invest RMB 1.5 billion (almost €200m) to establish the Kunming Biodiversity Fund. COP 28, the United Nations Framework Convention on Climate Change takes place from November 30 in Dubai, United Arab Emirates. The UAE plans to prioritise climate finance, triple renewable energy generation, double low-carbon hydrogen and ensure global food system resilience through greater investment in agritech combined with smarter water use and food production.
10.30 Key Interview with Michael McGrath TD, Minister for Finance, Ireland & Alan Dukes, Chair Asia Matters
11.00 Coffee Break
11.30 Business & Investment Panel: Ireland's Opportunity to Become a Global Leader in Climate Tech chaired by Cathal Lee, Co-Founder of EnergyCloud and MD Public Policy, Instinctif Partners with David McGee, Partner & ESG Lead, PwC Ireland, Prof Aoife Foley, Chair Net Zero, University of Manchester, Marc O'Connor, General Manager, Mitsui Ireland, Donal Daly, CEO Future Planet.
The climate crisis has necessitated creative industry deeptech solutions combining innovative academic research with new IOT and AI data and energy technologies to protect our planet, people and prosperity. Our panel talks on business opportunities, investing and innovation.
12.15 Industry Panel: The Journey to Become a Climate Neutral EU Mission City chaired by Barrie O'Connell, Partner, KPMG Cork with Sean Gayer, VP Operations, Boston Scientific, Barbara Anne Richardson, Sustainability and Public Affairs Manager, Heineken Ireland, Albert Ballbé, Lead, Working Group on Green Hydrogen, AER The Assembly of European Regions, Xavier Dubuisson, Chief Executive Officer, Retrokit
EU urban areas are home to 75% of our citizens. Globally, urban areas consume over 65% of the world's energy, accounting for more than 70% of CO2 emissions. The strong commitment of Cork City to Climate Action was endorsed internationally when selected to participate in the EU 100 Climate Neutral and Smart Cities Mission. In the journey of a city as an innovation ecosystem on the path towards climate neutrality by 2030, companies will play a vital role. Our panel will discuss the challenges, opportunities and learning from this innovation journey.
13.00 Closing Remarks followed by Networking Lunch - Venue: Munster Technological University - Speaker Cllr. Danny Collins, The Mayor of the County of Cork.
About the organiser
Asia Matters was launched in 2012 and since then over 21,500 have participated in Asia Matters Events from 51 countries.
A member driven knowledge and connectivity hub for Asia business and partnership, we build powerful networks and connect our member companies, key stakeholders in Government, State Agencies and Higher Education Institutes with Asian Corporates, Investors and Ambassadors.
Asia Matters is at the core of our stakeholder community of members and partners and we specialise in helping Irish companies who currently look to the UK and Europe, to expand their horizons to Asia, where we then facilitate their business expansion, similarly we work with Asian investors looking to expand into Europe.
Asia Matters delivers unique insight and knowledge into the Asia opportunity, as a result Asia Matters is recognised as the go to organisation for all things Asia: regularly featuring in national press and radio and speaking at conferences.