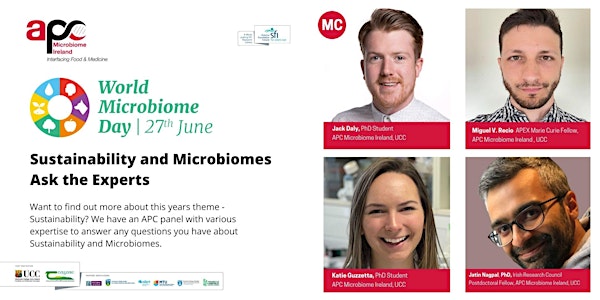 Ask the Expert - Sustainability and Microbiomes
Ask the Experts - Sustainability & Microbiomes. Have your questions answered by an expert from APC Microbiome Ireland.
About this event
Sustainability is the theme for World Microbiome Day 2021. There are endless ways in which sustainability and microbiomes are interlinked, all of which are fascinating. This event is for people who would like to learn more about the relevance of sustainability to microbiomes and how microbiomes can be influenced to promote sustainability.
Our speakers are researchers working on different areas of microbiome science. Please submit your questions in advance so we can be well prepared and answer as many as we can in the hour.
MORE ABOUT OUR SPEAKERS
Jack Daly is a PhD student at APC Microbiome Ireland investigating how both good and bad bacteria interact with the bile in our gut and the effect they have on our health. He also has a penchant for communicating science having recently won the Cork heat of Famelab Ireland and is in the running for the All Ireland Famelab Final. Some points of note about Jack; he experiences deep pangs of guilt when he feels he wears some pairs of socks more than others, sharp corners on furniture frighten him, and he once served Sting (formerly known as "The Police") a bowl of chowder in a restaurant, much to his chagrin.
Miguel V. Recio, APEX Marie Curie Fellow at APC Microbiome Ireland, University College Cork.Miguel is a postdoctoral researcher working at APC Microbiome Ireland, based in University College Cork. Born in Salamanca, Spain, Miguel studied a BSc Hons + MSc degree in Biology before moving to Italy for his first research experience working for Cerebral Cavernous Malformation in the University of Turin. After this, he gained some lab experience in microbiology in his home university before moving to the UK where he joined the University of Edinburgh to study an MScRes in infectious diseases. Here he developed a strong interest in host-pathogen interactions and regulation of virulence in Listeria monocytogenes. Miguel continued his education with a PhD in infection in the University of Copenhagen, Denmark, where he studied how environmental molecules can help decrease virulence expression of this foodborne pathogen. Throughout his career, Miguel has focused on finding alternative solutions to render this foodborne pathogen less virulent and a vulnerable host more resistant to its infection. Currently, Miguel research at APC involves the study of microbial-derived molecules generated from fermentation of dietary fibre. He is testing whether these molecules can be potentially used in dietary intervention to reduce Listeria's virulence expression and increase colonisation resistance against Listeriosis.
Katie Guzzetta is an Irish Research Council-funded final year PhD student at APC Microbiome Ireland SFI Research Centre. She is fascinated about the impacts our microbial companions have on human health, and how we may be able to harness the gut microbiota to treat a multitude of diseases, in the gut, brain, and beyond. Through her PhD research, Katie seeks to understand how the microorganisms living in the gut can influence brain health and cognition by regulating the birth and development of new neurons throughout the lifespan.
Jatin Nagpal studied biochemistry in Delhi, India before moving to Germany for further studies. He got his master's in neuroscience from the International Max Planck Research School in Gottingen after which he moved to Frankfurt for his PhD where he developed and implemented novel optogenetic tools to study the C. elegans behaviour. Thereafter, he switched to the zebrafish system for his postdoc in Mainz where he investigated the effects of early-life stress on physiology and behaviour. Since last year, he has been an Irish Research Council post-doctoral fellow in the Cryan lab at the APC/UCC working on implementing these model systems in Microbiota-Gut-Brain Axis field.
MORE ABOUT WORLD MICROBOME DAY
World Microbiome Day was launched by APC Microbiome Ireland and is supported by the EU-funded project MicrobiomeSupport and the European Food Information Council.
Follow @WMicrobiomeDay on social media using the hashtags #WorldMicrobiomeDay and #Microbiomes4Life to find out about more great events and competitions.
Follow APC on social media: Twitter @Pharmabiotic | Linked-in: APC Microbiome Ireland | Facebook: Pharmabiotic | Instagram: microbiomeireland