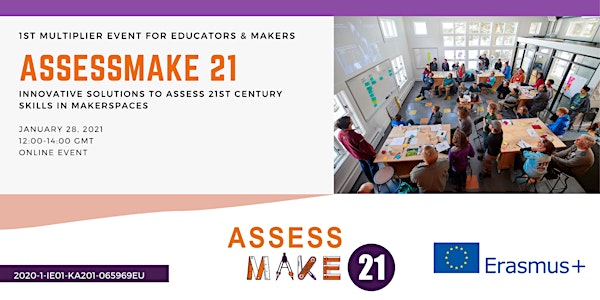 ASSESSMAKE21: Inaugural Multiplier Event for Educators and Makers
Inaugural informational online event aimed at teachers/educators and facilitators of makerspaces.
About this event
ABOUT THE EVENT
The 1st informational online multiplier event is organised by Dublin Maker in the context of the ASSESSMAKE 21 Erasmus+ KA2 project with the aim to introduce project ideas and initiatives to teachers/educators and facilitators of makerspaces. The event aims at encouraging participants to explore the creative possibilities of a makerspace (located in schools and/or non-formal educational places).
The event is free of charge and lasts 2 hours. Key topics will be introduced by the ASSESSMAKE 21 consortium. It's a great honour to explore the magic world of makerspaces with the support of our 2 invited speakers: Stuart Lawn (Founder of the Fab Lab Maker Hub) and Chris Reina (co-founder of the MakerMeetIE).
AGENDA
12:00 - 12:10: Welcome by Vicky Twomey-Lee (Dublin Maker)
12:10 - 12:30: ASSESSMAKE 21 Project by Deirdre Green (Learnovate) & Rene Alimisi (Edumotiva)
12:30 - 12:45: "Fab Labs and Digital Making in Schools" by Leo Scarff (Fab Lab Maker Hub)
12:45 - 13:15: Breakout Rooms
13:15 - 13:30: Feedback from Breakout Rooms
13:30 - 13:45: "Making a Maker" by Chris Reina (MakerMeet IE)
13:45 - 14:00: Wrap up and Call to Actions by Paul O'Raw (Learnovate)
Leo Scarff (co-founder of the Fab Lab Maker Hub)
Leo Scarff is the co-founder of the Fab Lab Maker Hub, a digital fabrication facility based in Manorhamilton in the North West of Ireland. Fab Lab Maker Hub was established in 2014 to bring street level access to desktop manufacturing technology and to kick start Maker Education and hands-on STEAM workshops in the North West and beyond. The focus of the Fab Lab is to engage with schools, libraries, small businesses, entrepreneurs and anyone curious about making with digital technology and prove that everyone can be a Maker. MakerHub Manager Stuart Lawn and Leo have developed Makerspaces for local libraries and arts organisations and run regular workshops on 3D Printing, Laser Cutting, Physical Computing, Product and CAD Design. As well as running his own design company since 1997, Leo has lectured on product design since 1999 and is a Design & Crafts Council of Ireland mentor in product design for the North West of Ireland .
Where to find Stuart:
Website: www.makerhub.ie
Twitter & Facebook: @fablabmh
Youtube: www.tiny.cc/makerhub
Podcast: www.anchor.fm/fablabmakerhub
Talk: Fab Labs and Digital Making in Schools.
Leo will talk about his experiences in starting a Fab Lab, running STEAM workshops for children and bringing digital making and design thinking into primary and secondary schools in the North West of Ireland.

Chris Reina (MakerMeetIE)
Chris has been involved in education since 2002, technology since 1981 and Making since 1971. (You do the maths) He is part owner of MakerMeet IE who provide practical skills in Maker education and project-based learning. He believes that we are all Makers and is passionate about learning through making. MakerMeet use the Constructionist approach to learning as set out by Seymour Papert and this underpins the student-centred, discovery-led S.T.E.A.M. workshops that they provide to the education, enterprise and private sectors. Chris loves cats, kayaking, kite-flying, steampunk, pedantic semantics and knowing the meanings of ligatures, aglets, gallibanders and lexiphanic. It is often said he is terribly modest (but not by him).
Where to find Chris:
Twitter, Instagram & Facebook: @MakerMeetIE
LinkedIn: https://www.linkedin.com/in/chris-reina
Talk: Making A Maker
Chris will chat about his definition of a Maker, who Makers are and why he feels all of us are Makers. He will finish up with why he feels young people (who are natural Makers) should be given further skills and learning opportunities to continue their Maker education.
Deirdre Green, Learnovate Centre.
The Learnovate Centre in TCD is a research centre focused on learning technology innovation.
https://www.linkedin.com/in/deirdregreen
Paul O'Raw
Paul currently works as a Learning Sciences Researcher and Erasmus+ Project Coordinator at the Learnovate Centre in Trinity College Dublin. The role involves researching training and assessment solutions using a variety of learning approaches and coordinating multiple European Commission funded projects under the Erasmus+ Programme .
https://www.linkedin.com/in/orawpaul/
Vicky Twomey-Lee, Dublin Maker
Dublin Maker is funded by SFI and supported by DCU. They run an annual Maker Festival and Vicky is their Maker Advocate as part of their Maker Advocacy in Dublin for Everyone (MADE) 2 year programme to raise profile of Maker culture and connecting the community.
http://www.dublinmaker.ie
Rene Alimisi, EDUMOTIVA
Rene Alimisi is managing partner and learning technologist at Edumotiva. She has an academic background in Information Communication Technologies in Education. Embracing the Maker Movement in Education, Rene has significantly contributed to the establishment of Makerspaces and STEM Clubs and the organization of making activities in formal and non formal educational places in Athens (Greece).
https://www.linkedin.com/in/ralimisi/
http://edumotiva.eu
ABOUT ASSESSMAKE 21 PROJECT
The goal of the ASSESSMAKE 21 project is to provide, pilot, and validate novel assessment methods and tools for the assessment of 21st century skills. The assessment solutions will be piloted in different learning contexts, with a focus on makerspaces. The project partnership will create learning environments that enable students to act as makers using a wide variety of physical and digital tools. This will be facilitated through hands-on experiences that emphasise collaboration and creativity following inquiry-based approaches instead of direct instruction of facts and formulas. Teachers and educators will receive training in this approach and will be highly involved in planning and implementing the activities.
Finally, the project will report findings and conclusions from implementations and assessments that will take place in 5 schools and 4 non-formal maker spaces in Ireland, Sweden, Greece, and Cyprus.
Read more about the ASSESSMAKE 21 initiative: https://assessmake21.eu
CONTACT
Stay tuned for regular updates of our activities via assessmake21.eu and follow @assessmake21 on Twitter and Facebook.
If you have any questions, you can contact us via info@assessmake21.eu.