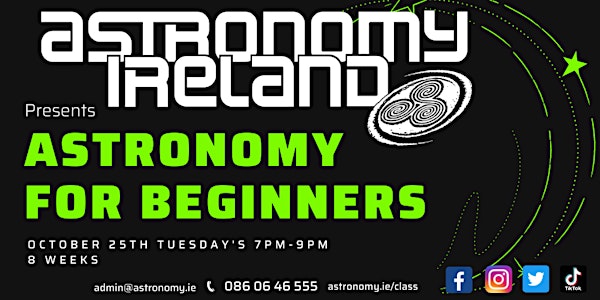 Astronomy For Beginners
Astronomy Ireland's Evening Courses presents Astronomy for Beginners
About this event
Ireland's most sought-after astronomy classes from the world's most popular Astronomy Society!
For over 20 years Astronomy Ireland has been running astronomy classes, these are now by far the most popular astronomy classes for beginners in Ireland with thousands of beginners having taken the classes to date.
Topics covered:
1. Introduction to Astronomy
2. The Stars
3. Planets
4. The History of Astronomy
5. Telescopes
6. Deep Sky Objects
7. Cosmology
8. Exoplanets and Life Outside our Planet
Each class is 2 hours long on Tuesday evening from 7 pm-9 pm with a 15min break in the middle.
They are delivered online via Zoom so anybody in the world can take these classes.
Paid-up members of Astronomy Ireland pay €135 for classes.
Non-members are extremely welcome and pay €195
This €195 includes your yearly membership of Astronomy Ireland so you will also get a monthly copy of our popular level magazine which contains Ireland's only Sky diary, access to our exclusive mailing list, and reduced rates for all of our ticketed events!
If you only do one course about astronomy this year make sure it's Astronomy Irelands Evening Classes!