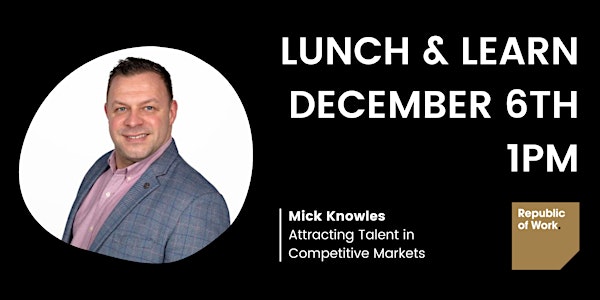 Attracting Talent in Competitive Markets
Good talent is hard to find - and made even more so when you're a company in an industry that requires a specific skill set and expertise.
When and where
Date and time
Tue, 6 Dec 2022 05:00 - 06:00 PST
About this event
Mick will discuss how Atlas can help you save time, money, and headaches by handling your Legal, Payroll, Benefits, Compliance, and HR services on a global scale.
The Direct Employer of Record helps numerous Start-Ups, Multinationals, SMEs, NGOs to Expand, Onboard (attract/recruit/transfer/retain), Manage and Pay their talents.
Topics to be discussed:
What can you do as a leader to attract talent?
Make people want to work for you
Looking beyond borders can assist in your searches
About the organiser
Republic Of Work is the ultimate flexible office space, we're not just a desk and a chair provider, we're building an environment for like minded people who are part of the REPUBLIC OF WORK community; innovative, flexible, and a very cool space that is still very much focused on the work environment.
Republic Of Work is also home to an entire floor of dedicated event space, catering for individual meetings up to large conference events hosting up to 150 people. 
We host regular 'Lunch and Learn' sessions plus exclusive events for our wonderful members. Follow us on social media on @republicofwork or subscribe to our newsletter at republicofwork.com to keep up to date with events at RoW.