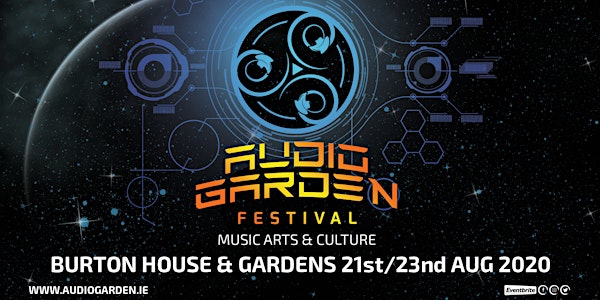 Audio Garden Festival
Audio Garden is a creative wonderland designed to intrigue, inspire and entrance the soul, returning to the roots of Irish festival culture
Date and time
Fri, 4 Sep 2020 18:00 - Sun, 6 Sep 2020 15:00 IST
Location
Burtown House & Gardens and The Green Barn Burtown Little Athy Ireland
Refund Policy
Contact the organiser to request a refund.
About this event
AUDIO GARDEN FESTIVAL 2020
3 STAGES IN THE HEART OF IRELAND ❤
We are so excited to bring you our 4th edition of Audio Garden festival 2020.
Taking place this year in a beautiful lush landscape, steeped in history, about an hours' drive from Dublin city.
The roots we planted last year have grown into a blossoming bounty of support and excitement for another round of music and workshops, and we can't wait for you to see what we have in store for you this year!
With some of the best the Irish psy and underground music scene has to offer the Rabbit Hole will deliver a memorable selection of aural delights for your pleasure.
In addition to this, the Eden stage will showcase some of the best Techno, Trance, House and more, guaranteeing we will have something for everyone.
Our Chill stage will be a great place to eat chat and meet up ,
We have some wicked DJ's lined up on the chill out to make this a very relaxing area to hang out ,Drum n Bass, Jungle, Reggae.and chill out music over the weekend.
In support of this, we shall also have some workshops and talks to broaden your horizons and allow you to benefit from an action-packed weekend.
Tickets on sale and Limited. We hope you will come join this gathering in our Audio Garden.
Refunds can only be claimed via the Eventbrite website up until Tuesday 18th August.
♦️Limited to 300 tickets
Saturday tickets may be available on the gate
Strictly over 18s ID will be required
No pets on site
Large camping area
Large car park area
Toilets
Food stall
B.Y.O.B
Workshop area - Featuring a full program of art, ecology and meditation workshops, live art and graffiti demonstrations
No Glass on Site please
We leave nothing but foot prints
No Gas fires or BBQs on site .
www.audiogarden.ie
TECHNO / HOUSE / DnB / CHILL OUT / PSYTRANCE +
LIVE ACTS PLUS MORE
MORE NAMES TBA VERY SOON
DJs / ARTISTS -
PADDY SHERIDAN
https://www.mixcloud.com/Djpaddys/stream/
THE DEGENERATE
https://soundcloud.com/user-173803491
MULTICOPY vs ESTERA
https://soundcloud.com/multicopyvsestera
GRACEY FRIEL
https://www.mixcloud.com/gracey-friel/
Dj Misneach
https://soundcloud.com/misneach
LaH NaRRaD
https://soundcloud.com/lah-narrad
D.O.D deliriumOFdisorder
https://soundcloud.com/d-o-d-deliriumofdisorder
KEITH ALLEN
https://soundcloud.com/dj-keith-allen
TOGHY
https://www.mixcloud.com/togh
MEERKAT
https://soundcloud.com/markahessy
DIGITAL AUM
https://soundcloud.com/user3958098
TRIPLAG
https://soundcloud.com/vic-triplag
KALIZER
https://soundcloud.com/djkalizer
GENEPOOL - Galactic Groove Records
https://soundcloud.com/genepoolireland
DANNY SIN
https://soundcloud.com/danny-sin
DJ SCOTT & UZI
https://soundcloud.com/seanuzi
TWISTEDRUSH
https://soundcloud.com/twisted-loyalties
MD DUFFY
https://www.facebook.com/rebootevents/
DAVE CAFFREY & PABLO C
Phever .ie
HUGO
https://www.facebook.com/TheBestSetsRadio/about/
WIREY WIZARD
https://soundcloud.com/kevinheraty
AVIGYAVEGA
https://soundcloud.com/avigyavega
JULIOSMAP
https://soundcloud.com/juliosmap
THONGORO
https://soundcloud.com/thongoro?ref=clipboard
BURDEN
soundcloud.com/burden01
AGALAXY
https://soundcloud.com/missstique
GAIA
https://soundcloud.com/gaia846577953
BANDIA
https://soundcloud.com/dj-bandia